Hey Glories
I had the pleasure of getting my mehndi done professionally for the first time ever. I count this as my first time, because my real first time was bogus. I went to Rani Ayurvedic Spa and Salon in NYC to get it done. If your from NYC you've probably heard of them. If your not from NYC, their name describes their aesthetic. The rude young lady told me to pick from a book of designs. When I picked the design I wanted, she told me the cost, which I don't remember right now and I looked at her like she was crazy. Sensing the tension in my face, she told me I could get half of the design done for $20 USD. I really wanted to have it done professionally, though I could have done it myself or have one of my friends do it for me, so I agreed. She crookedly drew two scraggly looking flowers on one side of one hand and was done. I was pissed. Worst $20 bucks I've ever spent. And the worst part is, I couldn't remove it. I had to wait for it to wear off, while washing my hands countless times in an attempt to speed up the process. Needless to say, I shit on Rani Ayurvedic Spa and Salon. Their workers are rude, incompetent, and racist. Not all of them, just most. And every time you get your eyebrows done in their facility, you get a different brow each time. Waste of money, but I digress.
I got my mehndi done in the Divali Nagar for $60 TTD on both sides of both hands. The way was extremely long, since her prices were so reasonable, but it was worth it. Navita freehanded the design, which I respected. I hate the whole pick-in-a-book thing, because it's never gonna come out like the picture anyway! She is a very pleasant girl with infinite patience. I watched her deal with the most annoying situations cooly and calmly. Not to mention I was bad talking her tattoo friend, Spider (before I knew he was her friend) about the shit job he did on my tattoo and she didn't seem to mind (I hope *gulp*). Gosh Trinidad, you too small! Haha!
I believe she charges $25 TTD per side for house calls and resides in Londenville. For anyone who is interested in her services, her # is 378-7822.
Before
After
Before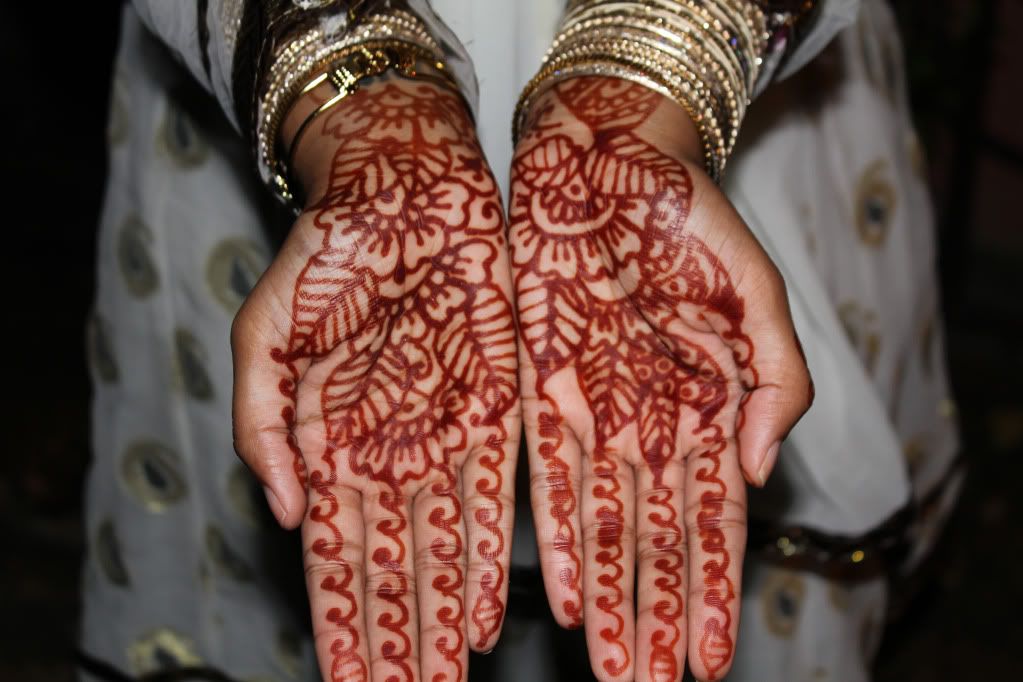 After
The color came in pretty deep, but only lasted about a week. I actually still have a light orange tint on the palms of my hands. I've read that it's advised to apply lemon and sugar to the mehndi before it dries in order to keep it on longer to achieve a darker color. I didn't do that in this case, because Navita said it's unnecessary to do that when you use the premixed henna. What I did do though was refrain from washing my hands with water, as to not hinder it from getting darker. I actually used olive oil to clean up my hands. The mehndi continues to get darker in the next 18 - 24 hours after it flakes off.
*Disclaimer: There are a lot of different techniques people use to obtain a dark stain, as well as different "witches brew" which is the liquid mixture you mix your henna powder with. Some people swear by certain methods that others disagree with, so it's really up to you to do your research and figure out what works best for you.