Hi hi!
First, I want to say that I'm a believer that certain people come into your life for a reason. And Rosa Espinosa came into my life, very briefly, and some what by chance, because she's the Boyfriends colleague. She came down to Trinidad, from Panama to help merchandise the Converse Store and she happened to come with him to pick me up from school one day. Turns out Rosa is a blogger! I haven't been taking my blog too seriously and when I took a gander of Rosa's page... she put my page to shame, because she's so consistent with updating! Her page is fashion oriented, but she blogged about her trip to Trinidad (we took her to the Nagar) and I thought to myself... WHY THE HECK DON'T I DO THAT? She really made me remember how much I love to blog, ever since my days on Xanga! So, I started doing just that. Blogging about my thoughts and experiences, which is what Aesthetic Glory is about anyway: finding beauty in life! So, THANK YOU Rosa! You've inspired me!
Rosa's Blog:
http://www.mystylishlittlesecret.blogspot.com/
Outfit of the Day // Rainy Day Swagg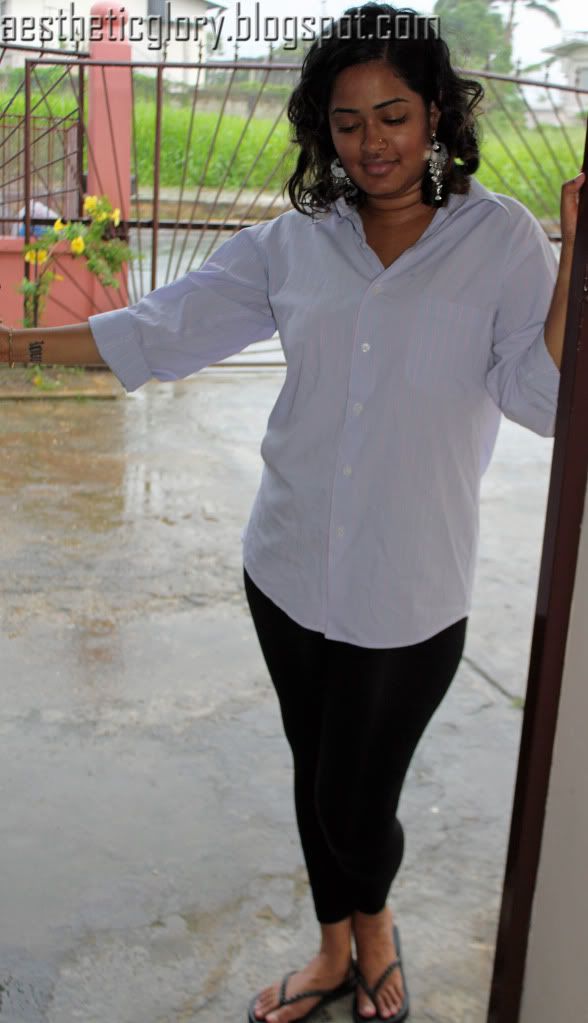 Ok, so I woke up on this rainy morning feeling lethargic, as I usually do on mornings and the rain wasn't helping the situation either! I didn't know what the flip to put on since 1/2 my jeans don't fit me anymore and I didn't feel like struggling with any nor being in anything tight. So what does a girl do in a case like that? Wear spandex of course! My legs weren't shaved (bah, too much work) so I couldn't wear my 3/4 leggings. I pulled out the long ones and checked my closet for top. *Rule of leggings: wear a top that covers your cootch! PLEASE!* I wanted something with sleeves (rain=chilly) and my eyes fell on the Boyfriends shirt! It was a light blue shirt with pink stripes. I paired with my leggings, slipped some flip flops on and I was off to school in my comfy outfit! I added some dangley silver earrings to the mix in an attempt to femme it up and make me look a lil more presentable and I was out the door!
Moral of the story: Check out your boyfriends gear, there's some things in there that will look cuter on you than it does on him!
[MMS]
P.S. Just for the record: Leggings are like pants. Tights are like stocking type material, usually sheerer than leggings. There is a difference! =]