Greetings Glories!
Happy (late) Thanksgiving to everyone! This is my first Thanksgiving away from New York and though my mom doesn't usually make turkey (she usually does chicken) nuff people send us food to last the whole week! I know it's not really big in Trinidad, so I didn't really plan on doing anything. That, coupled with the fact that I've never made a Thanksgiving meal before was enough for me to say "no turkey for me this year" and leave that alone. Who tell me open my mouth? My loving boyfriend decided that he would give me a Thanksgiving in Trinidad. And I might add, a Thanksgiving to remember!
One day after work he picked me up and we went to the grocery store to get our our turkey, whom I lovingly named Henrietta, and all the trimmings to go with. Our trip to the grocery was just about the closest thing to "normal" that happened this weekend.
Day 1:
Time to thaw the turkey and the instructions read "thaw in refrigerator for 1-2 days." We didn't have 1-2 days, we didn't even have 1-2 hours, so my honey put Henrietta under a running tap and thawed her out, which took quite awhile. I helped too eh! I got out the giblets and her neck (which was brutally stuck up her rear end!). We rub she down with a salt and sugar mixture and popped her in a big pot with water and lemons to soak overnight in her briney bath.

Day 2:
Your girl decided she wanted to make a Pumpkin Cheesecake after watching Kandee Johnson's YouTube video. Boyfriend picked me up after work and we went to Xtra Foods to get my ingredients. What ingredients??? They didn't have anything I needed. Well, they had the basics, but the ease of the cake depended on premade ingredients like canned pumpkin puree and a ready made pie crust, neither of which they had. Kudos to the workers though, because they really helped us search. I was ready to give up and go home, because oh! I forgot to mention..
Henrietta was in the oven
on her tummy being baked. Turkey takes approximately 3-4 hours to cook, so I decided to pop her in and be back in time to turn her onto her back to finish up the cooking process.
Boyfriend didn't wanna hear anything about giving up, which is one of the reasons why I love him so much! He pushes me, even though he knows he's getting in the line of fire, he pushes me and gets me to persevere. "We'll use real pumpkin," he said (I was ready to use baby food, because essentially it's the same thing, but SO EXPENSIVE, lord.. babies ain't cheap!), "and make our
own
pie crust." My boy picked up the piece of pumpkin and now it was just look for graham crackers for the crust. Surprise, surprise.. NO graham crackers. I read online (via BB) that Digestive can work, so I was going to grab that when Boyfriend turned into the isle I was standing in with a big pack of graham crackers with the butter and everything already in it. All I had to do was press it into the pie pan. I'm always complaining about what Trinidad doesn't have, so he was all too happy to boast about his find. Ok great, pie filling (check!), pie crust (check!), pie pan... err, we need to pick that up. Low and behold, NO pie pans! What they had was too small and too deep. After debating for 10 minutes on what to do, Boyfriend remembered his mum has pie tins we can use, Hallelujah! And don't forget, all this time,
Henrietta is in the oven
.
Ok cool, we got our ingredients. Time to line up, cash, and pass by his mum to get the pans and jet out, because remember,
Henrietta is still in the oven
. Ready to leave by them and guess what? The car won't start. Boyfriend was suppose to go get gas, but with all the hustle and bustle he kept postponing it. I won't get into details, but he asked a dozen people if they had gas or the approved container and even went to the local parlor, which had gas, but was closed! And remember, all the while
Henrietta is still in the oven
. All this calling and checking neighbors was being done inconspicuously, as we were trying to hide it from his pops, who tells him (often) to
always
keep his tank half full. My best cousin ended up calling his friend who had a container which thankfully had gas in it (it would have been another thing to find an open gas station). He dropped me home to turn Henrietta who turned a lovely golden brown color, it was just on the wrong side, because she she was long overdue a turn onto her back.
I turned on Sweet 100 F.M. to hear my parang, parang aiyee, aiyee (which is the only station I've been listening to these days, I practically have all their advertisements memorized), poured me a glass of wine and started to dance (practicing my bachata, salsa, and merengue) and began to cook. Good times! When he came home with the car, there was a glass of wine waiting on him and there was nothing to do but laugh! And thank God that the house didn't burn down.
He helped me in the kitchen, which is so wonderful ladies, I hope your men help you out too. And we had a DELICIOUSSSS Thanksgiving meal together.
Henrietta in all her glory. The pan drippings made for a tasty gravy! I didn't have any twine to tie her legs, so I ended up tying together left over wicks from Diwali to get one long enough to wrap around!

left: my plate before I started to eat
right: my plate after I starting eating and Boyfriend reminded me of the potato wedges in the oven!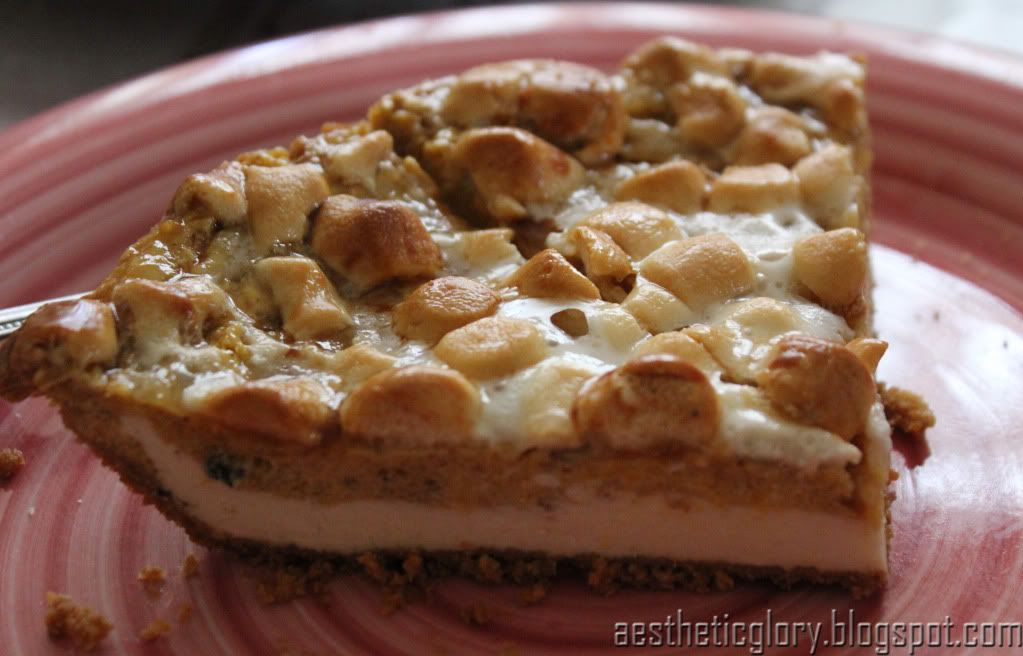 my beautiful and yummy double layered pumpkin pie cheesecake with marshmallows on top!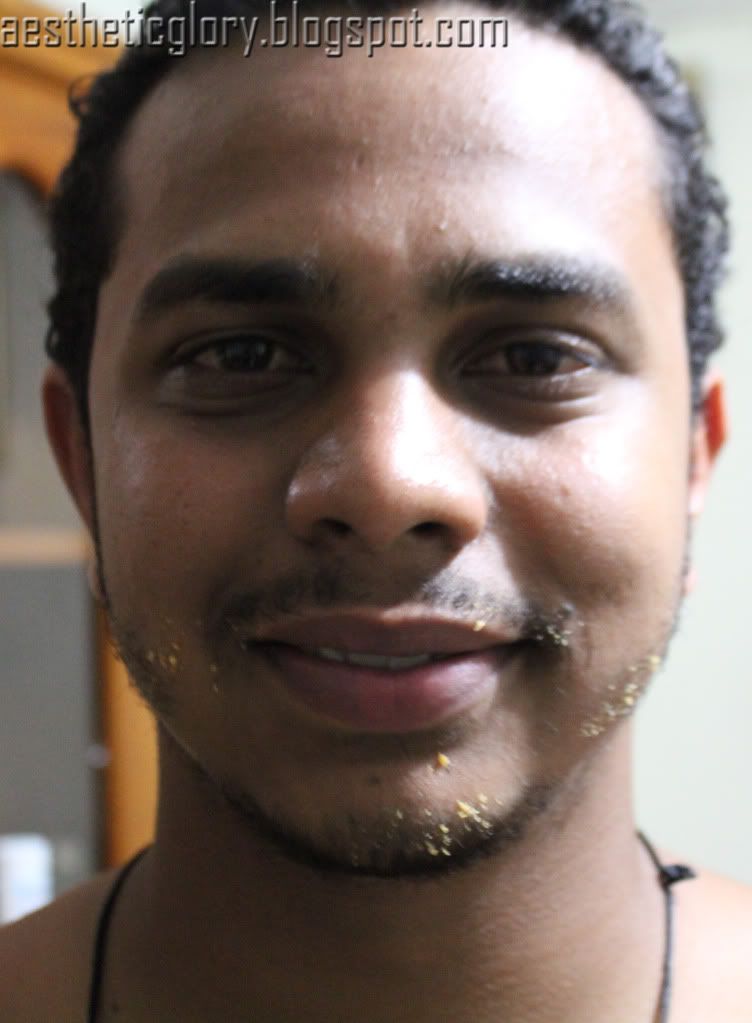 somebody was real enjoying his pie! LOL!
I'm thankful for so many things in my life and I thank God for my blessings everyday, but it's nice to have a day that you can really celebrate giving thanks, even though the holiday is based on a blatant lie. Check out this blog if your interested in that:
http://storiesinamerica.blogspot.com/2006/11/truth-behind-thanksgiving.html
. But really, there's so many things that we often over look that are worth our thanks.
♥,
[MMS]
P.S. I didn't forget any of you all in my list of things to be thankful for, especially those of you who have took the time to click the "follow" button. You all were mentioned in the pre-dinner prayer! Thank you to my readers for reading, supporting, and commenting! I ♥ YOU!
P.P.S. Don't forget to tell me what your thankful for in the comments below! ;]