If your into make-up, I'm sure you all have come across these Paint Wheels before. What you may NOT have known is where they actually come from. Ever heard of Lady Burd Exclusive Private Label Cosmetics? Well, they are a private label manufacturer that creates unique cosmetic products, emphasis on the word UNIQUE. Their aim is to help people create their own image by adding their own branding and such to their products.
The following is an excerpt from their CEO's (Roberta Burd) address to her customers. The full statement can be found on the about page:
here
.
"Exclusive Brand Development:
Design an ultimate product line that is completely you. Having the vision to create your own line is where it starts. Whether it is one item or an entire line, you can individualize each product by professionally silk screening or hot stamping your brand name and logo onto the component. This will give you the look you want and add value to your retail price. You will increase your profits by customizing a line for yourself because building a brand also creates repeat business through customer loyalty. Also, shade names can be changed to increase exclusivity. All labels are produced in-house. Shrink-wrapping is also available to prevent tampering of your products."
"All products manufactured by Lady Burd ® are done so in accordance with Good Manufacturing Procedure (GMP). We follow the recommendations of the FDA and our facilities are set up in accordance with CTFA Quality Assurance Guidelines. All formulas are in compliance with global requirements. All of our products are animal cruelty free.Lady Burd's prices are very competitive in today's global marketplace. We are confident that our quality and service cannot be surpassed. As your supplier, we can help you produce the best products possible. Our aim is to secure the successful launch of your products and support your company everyday."
Now that we've established exactly what the company does and the fact that they follow the recommendations given by the FDA
(U.S. Food and Drug Administration. An agency in the U.S. federal government whose mission is to protect public health by making sure that food, cosmetics, and nutritional supplements are safe to use and truthfully labeled.)
and meet global requirements, let's take a look at their page: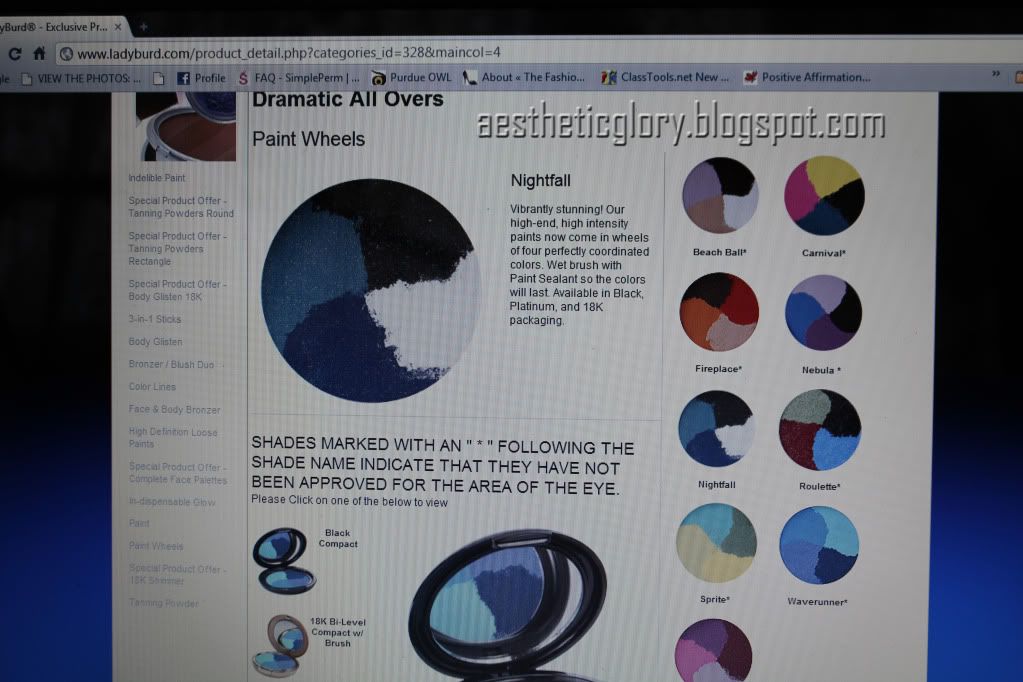 Lady Burd's website states conspicuously on their page that the shades marked with an asterisk have NOT been approved for the eye area.. thats EVERY Paint Wheel except for one!
Bitchslap Cosmetics got into some deep doodoo on YT when their sponsored Guru's started backlashing. The same people who were promoting the products starting bashing some of them for not being approved for the eye area. I dunno if any of you all were following it, but there was some real bacchanal poppin off on YT over this issue. Now the company has a warning on their website for items that haven't been approved for the eye area and such. But, why is it that a company has to wait till they get caught to buck up on themselves? Sneaky, sneaky....

These things sell on Ebay and a multitude of different places (mostly small businesses) and it's very rare that anyone mentions this important info. to their customers. Some companies even use the exact same names as the ones Lady Burd's use (ie. carnival, sprite, nightfall, etc.), so I think it's clear that they purchase from Lady Burd and have seen the unhidden notice in capital letters on the website and just choose not to say anything to their customers about it.
Moral of the story:
I'm not saying that you CAN'T use them on your eyes, I'm just saying that it has not been APPROVED for the eyes. MUA's and YT Guru's also need to be a little more careful with who they endorse, free make-up can be enticing, but not at the expense of your integrity. And to the companies who sell these Paint Wheels WITHOUT the warning, shame on you.
[MMS]
P.S. The
only
color that HAS been approved is
Nightfall
, which is the blue one that appears at the top of this post. Don't take my word for it, check it out for yourself:
here
.
P.P.S. Thank you to Nadia who brought this to my attention!