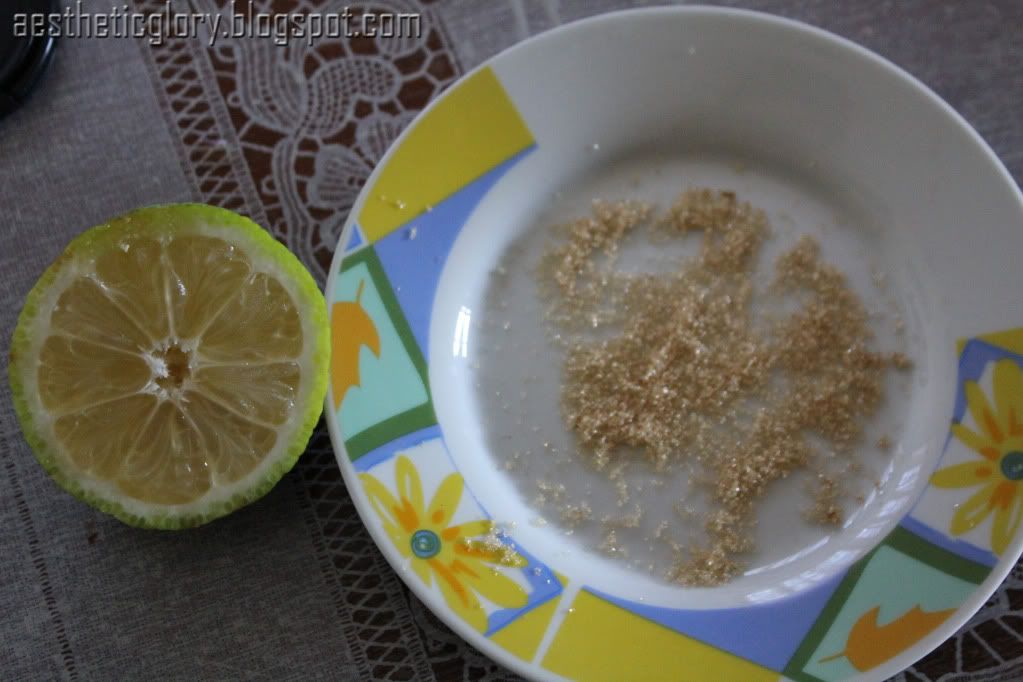 Beauty tips courtesy of: http://www.lookgreat-loseweight-savemoney.com/beauty-tips.html
Exfoliate Dead Skin Cells

- Rub a cut lemon dipped into a half-teaspoon of sugar over your face for a few minutes. Do this every night to help remove accumulated dead skin cells and refresh your skin. --

I personally don't do this every night, just whenever I feel like my skin needs it. I start with a clean face (clean for me just means soap & water, that might differ for other people) and I splash my face with warm water to open up my pores. I put the sugar in a plate (as seen in the photo above), dip the lemon into the sugar and scrub my face with it. I leave it on for a bit maybe 3-5 mins, rinse, and moisturize.

You don't need a whole half of lemon, a slice will suffice! (check out Kandee Johnson's video at the bottom to see a demonstration, as well as useful info!)
Healthy Nails

- Soak your fingernails (or toenails) in lemon juice for 10 minutes. Then brush your nails them with a tooth brush or nail brush using a mixture of 1/2 white vinegar and 1/2 warm water and then rinse with warm water. This treatment helps your fingernails stay strong and bright! You may be surprised at how shiny and amazing your fingernails look!


Remove Blackheads - Rub lemon juice over the areas that contain blackhead sright before you go to bed. Rinse your face with cool water when you wake up. Repeat this every night until blackheads are dissolved and gone. (The citric acid helps naturally dissolve the oils that form blackheads in your skin!)


Brighten Skin - Use fresh lemon juice on any area of your body, including your face, to brighten up and soften your skin. Simply rub a fresh lemon on this area before you go to bed. Rinse in the morning. You can also add 1/2 cup of fresh lemon juice to your bath water and soak for 20 minutes for an all over treatment.


Condition Hair - Dull, damaged hair will benefit from lemon juice! Combine 3/4 cup olive oil, 1/2 cup raw honey, and 3 tablespoons of lemon juice. Set aside. After shampooing your hair, towel dry your hair and work the lemon juice mixture in your hair by combing it evenly throughout your hair. Then cover hair with a plastic cap for a 1/2 hour. Shampoo and rinse your hair as usual.


Bleach Hair - The all natural alternative to bleach is to use the juice from 1/2 - 1 lemon into your hair. Squeeze it directly into your hair. (Don't worry if you get some seeds in your hair. You'll rinse those out later!) Sit in the sun for 25 minutes. Shampoo and condition as usual. If your hair is light colored, you will see more blonde highlights. If you have darker hair, you will notice some nice red tones. -- I've tried this one, it works!


Dry Skin – You can use lemons to help with your dry skin! Simply make a mask by mixing equal amounts of honey, lemon and vegetable/canola/olive oil. Apply to dry areas and allow it to dry thoroughly (about 10 minutes). Rinse with warm water. This mixture is a good moisturizer for dry skin or dry skin patches.
Oily Skin Toner - Combine 2 tablespoons lemon juice, 2 tablespoons vodka, 1 tablespoon distilled water, and 1 teaspoon witch hazel. Apply with cotton balls to your skin, then rinse. This mixture will keep in the refrigerator for a week and can really help your oily skin woes!


Dandruff Treatment - Mix a few tablespoons of fresh lemon juice with 1/2 cup of olive oil. Rub it gently onto your scalp. Allow to remain for 15 minutes, then rinse, shampoo, and condition as usual.


Breath Freshener - Use lemon juice to freshen your breath. Lemon has been used for years (mostly mixed with water to make lemon water), as a natural breath mint. The acidity in lemons, (although alkalizing), helps destroy bacteria in your mouth that gives you bad breath. Drink lemon water during the day, to freshen up your breath anytime!


Body Purifier
- Lemon water is also a great detoxifier for your body. --
I drink lemon water every morning! check my last entry for more into on there: click here.