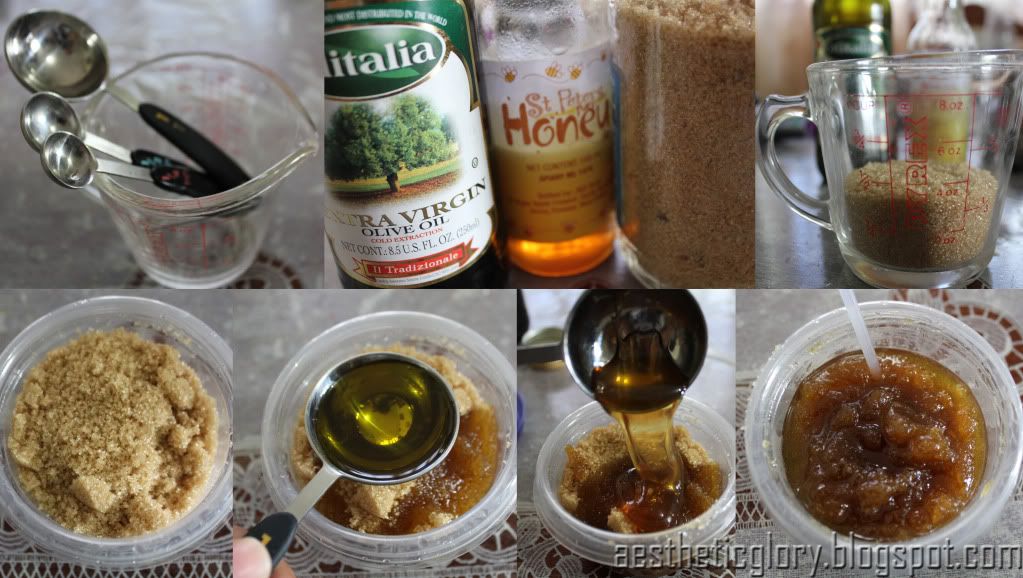 1/2 cup of sugar
2-3 TBSP of EVOO
2 TBSP of honey
note: It's always best to go for organic for what I hope is an obvious reason. Also, pour the oil first, it will help the honey slide right out (see pic above).
Extra Virgin Olive Oil is hydrating and won't clog your pores.
Honey is a humectant, which means it hold on to water molecules and retains moisture. It's also a natural antioxidant and has anti-microbial properties, which means it helps to treat blemishes and acne, as well as help protect the skin from sun damage.
Sugar helps to exfoliate dead skin cells, revealing new cells which helps to achieve healthy glowing skin. Sometimes I mix granulated sugar and brown sugar just to get an array of textures.
I scrub my face with this whenever I feel it needs the extra hydration and I use this on my body once a week. This is my favorite treatment, because it will leaves my skin feeling noticeably soft and hydrated.
Check out Michelle Phan's Video for a demonstration and extra info!
[MMS]
P.S. Avoid the delicate eye area, please.
P.P.S. I know I said I would blog every 2 days, but I used this last night and was really excited to share it with you all, because of Boyfriend's reaction. He was like "WOWWWW! your skin feels so silky smooth" and this is coming from the guy who never feels a difference when I try a new lotion or exfoliating treatment.