Hey Glory Gals & Guys,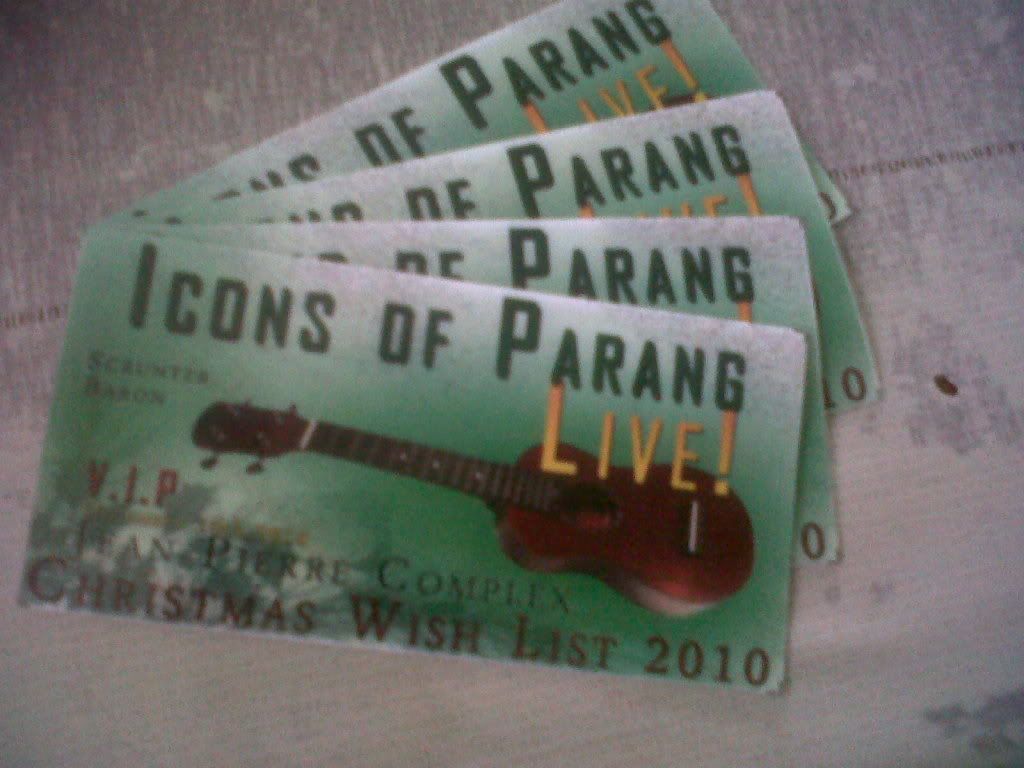 On Dec. 10, 2010 I attended the Icon's of Parang Show. I took Boyfriend, Mom and my Cousin along with. I was soooo excited about this concert, more than Nicki Minaj and Maroon 5... put together! I LOVE soca parang! I'm guessing it's partially because I don't hear soca parang on the radio during Christmas time in the States, so when I come down for a Trini Christmas I'm glued to Sweet 100! I guess when your subjected to it every Christmas, it becomes whatever, but since it's a factor that I miss during Christmas time in the States, I throughly well enjoy it when I'm down here in Trinidad.
We bought V.I.P. tickets, because I wasn't gonna sit in general for a concert I was this excited about. As we entered the parking lot reserved for V.I.P., we were braced to pay 20 TTD. If the parking is designated for us, tell me why do I have to pay again? Shouldn't the cost of that be included in my ticket? Whether or not that was legit, I have no idea, but we payed the $ and parked. We got our bands and food chits and there was a drink stand when we entered right before we took our seats. I thought it was some sample fruit juice something, but boy was I wrong! It was the most potent mixed drink I've ever had, ever. I had to shot it, because there was no sipping on something that strong. My cousin and mom couldn't drink theirs, so your girl shot their drinks too! I was buzzing as soon as I got to my seat. Kenny J went first, then Baron, Crazy, and last was Scrunter. Kenny J and Baron get away from me, but I corner Crazy and Scrunter before they left!
The turn out wasn't that great. Me and Dale was probably the youngest couple there. I was kinda disappointed that more Trini's didn't come out to see our local's perform. I get more star struck for people like Sparrow, Baron, and Crazy and them than I do for celebs like Nicki Minaj and Beyonce (met them both and didn't go off on either one).
They didn't put up any tents, in case rain fell, except over their precious DJ equipment. Because why put up tents when rain might not fall, that would be a waste of money. Well all yuh, rain fell! I have no problem dancing in the rain, because damn it, that's what I did. But it was no fun for the older folk like my cousin and mom who tried to get shelter under the DJ's tent.
Food was good. I had pastelle, geera pork, BBQ pigtail, and ham with chow-chow. Unfortunately for my mother who doesn't eat pork, it wasn't so good. Poor lady could only eat the pastelle, but on the bright side we made her take her share of food and eat her portions as well as our own.
Scrunter stole the show. That man could perform! He invited the crowd to come up closer to the stage and we all dance, dance, dance. The clip I posted on YT is of part of his performance. The erratically moving hand in front the camera is my own. I was gone. Even when we got home, I was still drunk! Dale thought I danced it off, but.. I didn't.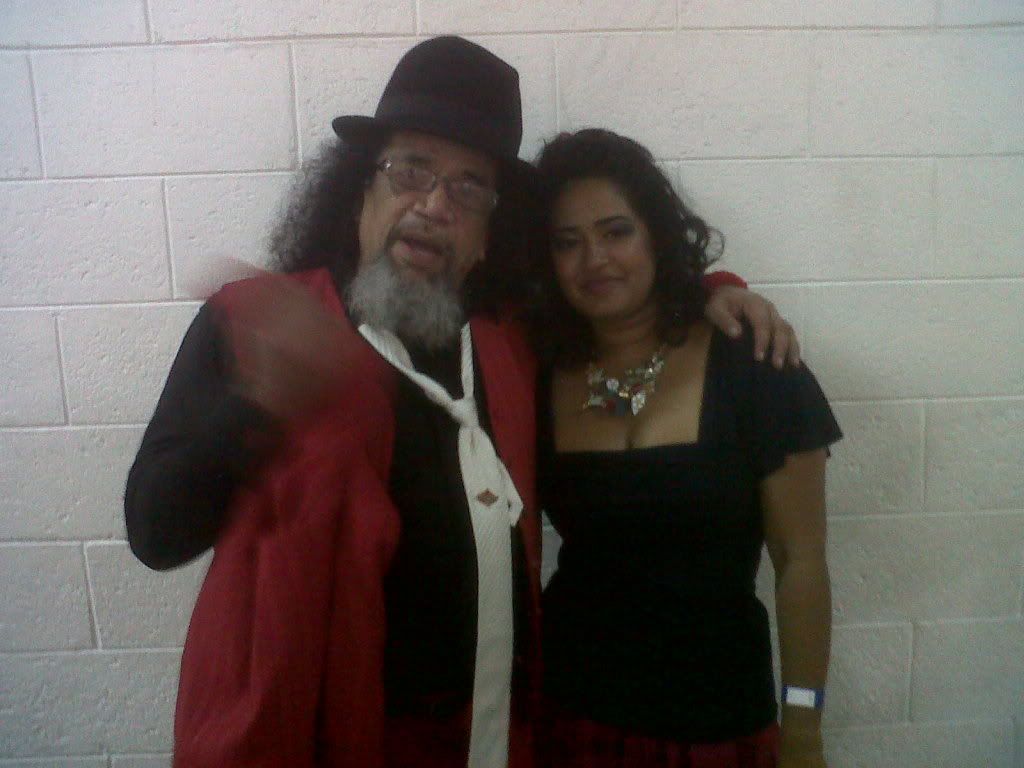 Crazy was rushing off after his performance. He said he have a woman home crazier than he!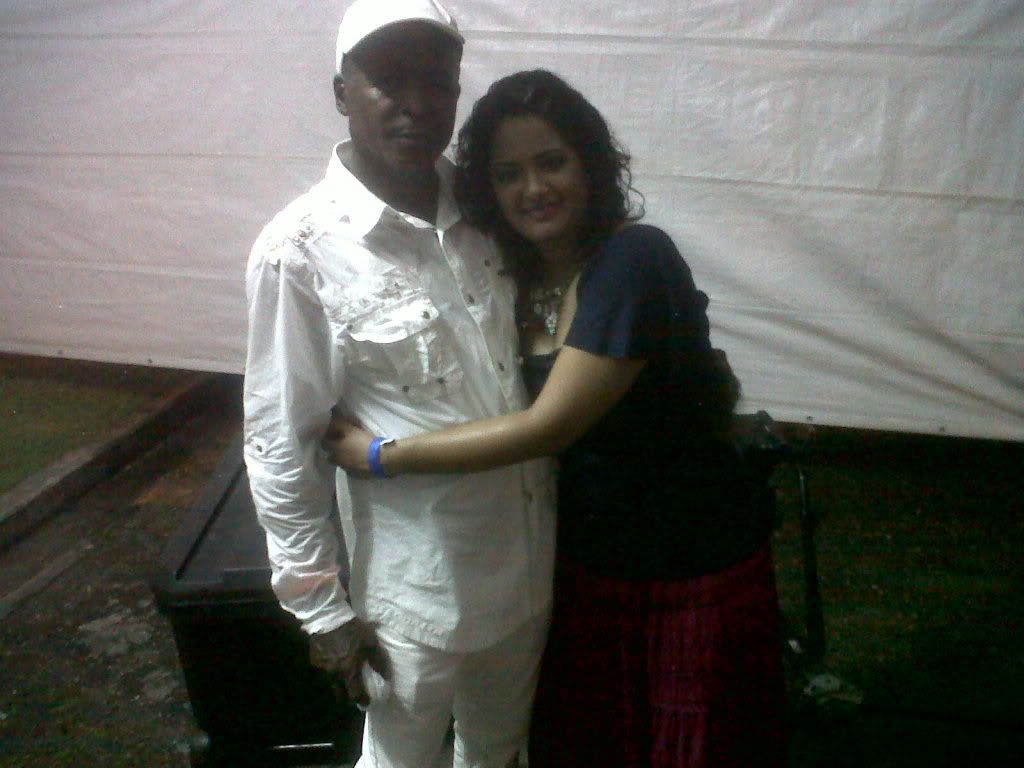 I hug up de man like I know him from long time, eh!
warning: audio is terrible!
[MMS]
P.S. Despite the rain, I well enjoy myself.. can't say the same for my mom though =S