Hey Glories!
I have A LOT of red polishes! Well, not a lot a lot, but out of all the colors in my collection I have more reds than anything else. Not only is it one of my favorite colors, but I think red nails are so classic and sexy. China Glaze's Phat Santa is my new favorite red. Before it was OPI's Malaga Wine, which is very similar, just a tad bit darker. Hmm, idea! I just may swatch all of my reds for a blog entry one of these days *wheels turning* anyway, the consistency was great (fluid with a lovely glossy shine), much better than Jolly Holly (the green) which came along in the set and needed some nail polish thinner.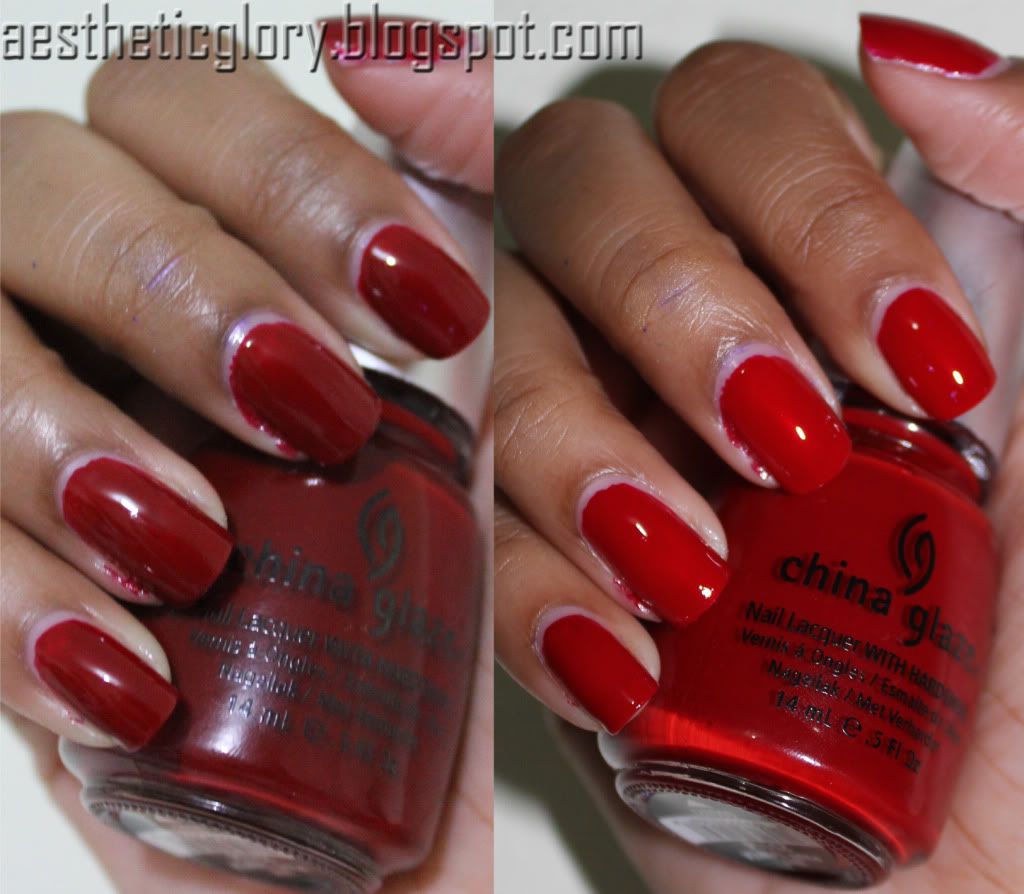 No Flash // With Flash
(I was a bit sloppy with the application)
Lately, I've been rocking very plain one color manicures, which is very unlike me. Usually if I do one color manicures, I do a different color on my ring finger, but when I've attempted that recently, I end up taking it off and keeping it all one color. Gosh! I hope this doesn't mean I'm getting old and my tastes are getting old along wit me! Yikes! Anyway, I wanted something different, but nothing too out of the ordinary, so I decided to attempt a Half-Moon Manicure.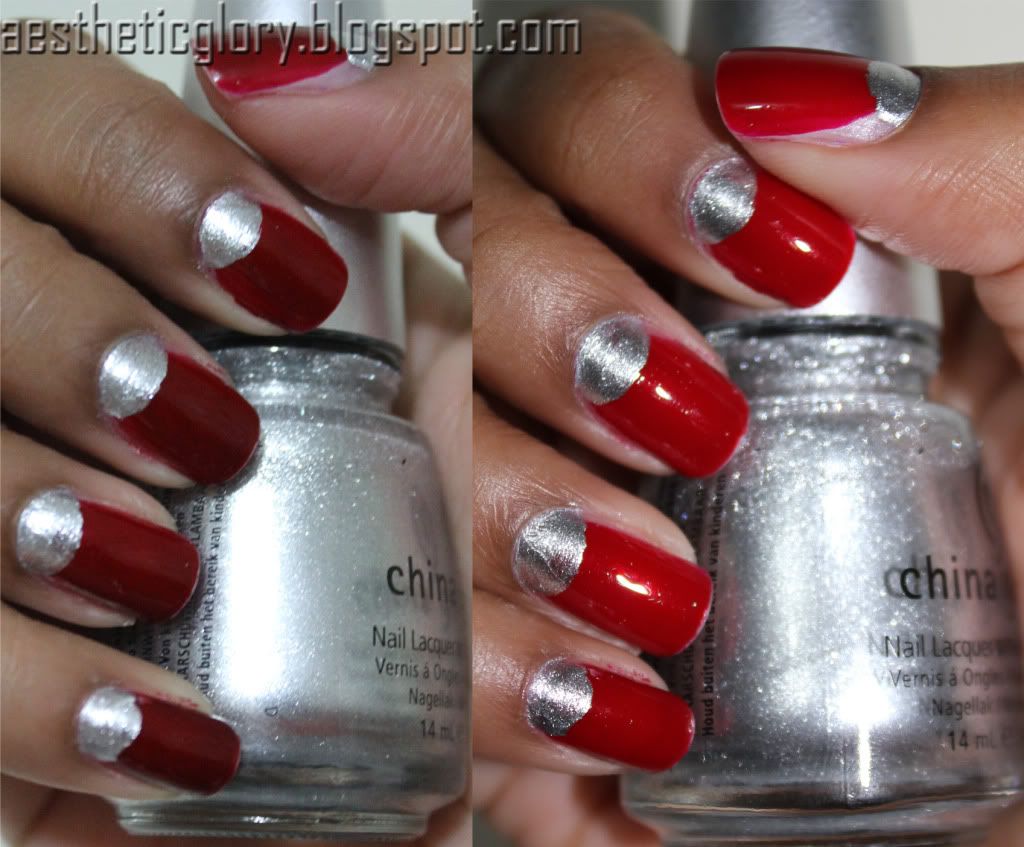 I attempted to freehand it first, which wasn't too working out. I dug up in my nail draw and found some French Manicure Template's to use to get a sharper line. I think they were too old (no stick) and not round enough, because they didn't help.. AT ALL! I ended up free handing it anyway, not once realizing maybe I should use a detailing brush to make my life easier. By the time I was done, there was silver polish (this is my favorite silver btw) all over my cuticles and fingers, which drives me crazy. After I removed the excess polish, it looked pretty good, but I need to invest in some more templates to help me next time.
This 1950's vintage style manicure was resurrected and popularized a couple of seasons ago by Dita Von Teese. It's usually done with leaving a space, so essentially the half-moon is bare nail and the rest is polish. But of course, you can use two colors as I and others have done.
Next, I'm attempting a Ruffian Manicure, which looks MUCH EASIER, but again, I need French Manicure Templates to get that clean line.
I'm also thinking about converting my square tips to stiletto tips, which seems to be in right now...
Ent, Ri-Ri?
[MMS]
F.Y.I. I'm very pleased with both the holiday sets I bought from China Glaze. Great must-have colors that I will use over and over again! No bad money spent!