Hey Glories!
As many of your know, after long speculation and deliberation, I decided to change my look and yesterday I finally went through with it. Because I'm new to T'dad, I don't have a hairstylist and I'm so anal about my hair, as most girls are, and I really didn't know who to turn to. I got some great recommendations from some great people, but I more regularly see gals with long hair in T'dad. As much as their hairdresser might do awesome job on them, they might not work for me since my cut is so short.
Kismet is a beautiful thing. Randomly while waiting in Chaguanas Health Center for a family member, a girl with a really spunky short haircut came in and I asked her for her stylist's number. I made an appointment with her lady, Marcia, and decided to let her color my hair too. When I got there, Marcia was honest enough to tell me she didn't have the color I wanted and didn't, as Dale said he would have done if he were her, mix up a lil something and try to pawn it off as what I asked for. I went through with the haircut anyway, which took no time since my hair was already practically in the cut I wanted.
My last two experiences at the hair salon in NY were a bit traumatizing. Neither hairstylist give me what I wanted, even though I brought pictures. And I don't know how it works in the hair business, but as a make-up artist, bringing me a picture is the best thing you can do! It's so much easier to replicate than to do guess work. I even had a hair dresser tell me that some people come in there wanting to look like Beyonce, but can't because they don't have the amount of hair that Beyonce does nor her features. Well honey, I don't want to look like anyone but myself and I have a full set of hair to work with (at the time I went to her, it was practically down to my butt) so, what now?
The first thing Marcia asked was if I brought a picture of what I wanted and used it as reference while she cut my hair, which I genuinely appreciated. For the most part, my experience with Marcia was a pleasant one. She's not too talkative and didn't try to force awkward conversation like some people do. There wasn't too much of a "connection" but she didn't irritate me, which is the more important thing to me out of the two. I was a bit upset I didn't get to see exactly how the cut looked, because it didn't make sense to style it (and pay to get it styled) to just get it wet in the dying process I was going to undergo later that day. But that wasn't Marcia's fault, it was my own for choosing to cut before color.
I really had my heart set on being blonde that day. I was really looking forward to it since the moment I made the appointment, so out of desperation I decided to try Cecelia's in Price Plaza. I went there to wax once and the girl was pleasant enough even though she zugged up my eyebrows. I don't know what I expected from her when her own brows were too overdrawn, heavy, and square. And mind you, she double dipped the wax, which is unsanitary, but at the time I needed the job done, similarly to my current situation where I just wanted to get my hair did!
I walked in and the owner, Cecelia comes towards me, coffee in hand and I tell her that I want to DYE my hair. She looks to me with a wry face and says "Oh, you want to COLOR your hair." Right at that point, I should have turned around and walked out, but I gave her the benefit of the doubt. Some people are passionate about what they do and my baby says I have trouble taking correction, so I controlled my emotions and didn't take offense. Let's continue. So, I show her the picture of what I wanted and she goes off on a tangent about how difficult it is to strip black hair to platinum blonde and the color I will get will depend on how strong my scalp is because some people's foreheads swell up. Not only that, but because I have some blonde already in my hair, those pieces are going to melt away and I'm going to get breakage. She made it sound as though the bleach was so toxic that it was going to burn my skull to the point that she was going to have hose me down, roll me on the ground, and then throw sand on my head to cool it down, because my hair was going to catch a fire during the process. Then she continued to ramble on about how difficult it is to take care of blonde hair and how frizzy and ghastly it would look if I didn't make regular trips to the salon (her salon) to ensure that I keep it looking lux.
She pretty much shot down my hairstyle aspirations; the hairstyle I've been dreaming about and contemplating over for months! Now, I'm not saying that what she said was wrong in anything that she was saying. I've seen enough models crying when getting their hair bleached on Top Model to know that it's difficult to get dark hair light. It's not by any means what she said, it's how she said it. She took on the most condescending, uptown, fresh water Yankee, I'm-superior-to-you tone that anyone has ever spoken to me in. Especially, an anyone I'm about to give my money to. Just because you use big words like "oxidation" doesn't mean that you have the right to speak to me like I'm inferior to you. And she did this for about 10 minutes, without so much as offering an alternative to what I wanted. Just continued to blab about how difficult it would be to achieve and interjected and interrupted every time I tried to get a word in.
I tried to maintain a happy deposition, because I really wanted my hair done and even after she quoted the $1050 TTD price to do whatever it is she was going to do (up to this point, I'm still not sure), I still proceeded to her washing station. Yes! I said ONE THOUSAND AND FIFTY TT DOLLARS to dye (not color) my hair. I sat down in the chair and her workers scramble around me awaiting their queen's orders. She starts belting them out without even clarifying to me exactly what she was about to do. As for her minions, they dissected my hair, parting it, and mumbling insulting things as they went. When I restated to her that I wanted the sides of my hair darker, she looked at me like I was telling her this for the first time. She told her man-bitch who sits at the front desk to "bring the calculatooooooor" and added another $200 TTD to the already hot price tag. I almost lost my cool at this point, because as I'm trying to explain to her that I'm not sure if I want to go through with something different since it took me so long to decide on this particular hairstyle in the first place, she sneered "Well, I'm trying my best to work with you here." Yes, emphasis on all those words. Don't do me no favors. I got up, took my purse, and left.
She doesn't listen. She just talks and talks and talks, probably because she likes the sound of her own belittling voice. She reminds me of a female version of Jorge (played by Kevin Bacon) in Beauty Shop.
I was upset. Very upset. Dale tried to calm me down and make suggestions as to what I should do. I had my heart set on getting my hair done and I didn't know where to go. Suddenly, I remembered my cousin's wife. I saw her last week and remembered liking her hair color, so I gave her a call. She gave me the number to her stylist, Diane who was able to take me that very day. So, I went to her and explained the situation, showed her the picture, and she very sweetly came up with an alternative for me and before doing anything, she explained precisely what she was going to do. She's very humble, down to earth, friendly, and kind. And wanna hear the ironic part? Cecilia trained her and she used to work with her for four years. I won't go into the beauty salon gossip on CeCe, but I'll just tell you, I wasn't surprised by anything I heard. That lady is seriously ego trippin. Anyway, I finally got my hair did and left Diane's salon feeling brand spankin new!
Would I go to Marcia's again? Yes.
Would I go to Diane's again? Definitely.
Would I go to Cecelia's again? Not if it was the last hair salon standing in Trinidad AND Tobago.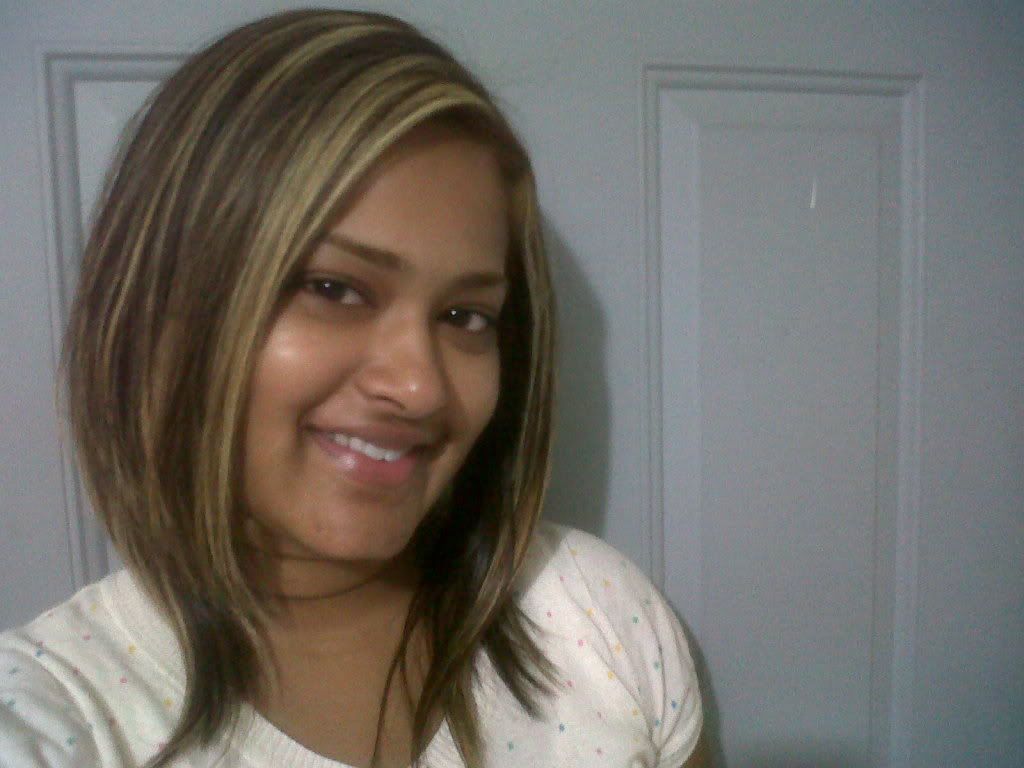 The NEW (and satisfied) me!
MARCIA
Mid Centre Mall, Chaguanas
757-1160
DIANE
Behind First Citizens Bank, Chaguanas
787-8637
Make sure you tell them Marsha sent you!
♥,