Hey Glories,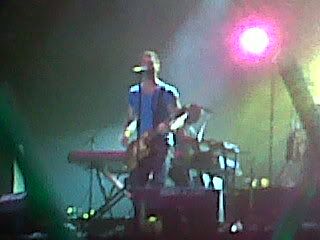 I was graced with the lucky opportunity of attending the Maroon 5 Concert in Trinidad, all praises due to Dale who got us the tickets. And not only did he get us two platinum V.I.P. tickets, but he also got 2 tickets for 1 of my lucky YouTube Subscribers. There was some issues with the giveaway. It was done really last minute, because that's when I obtained the tickets and due to the time constraints, I put a time limit on when the winner of the tickets needed to contact me by. Unfortunately, the initial winner contacted me a bit too late and I had already picked another winner and posted that video, so she didn't get to go. Again, I'm really sorry Nefy!
The concert was awesome, but can I tell you a secret? I'm not really a Maroon 5 fan. I know! *GASP* *FAINT* But it's the truth. I really just went to support Dale since he was so siked about going. I did end up having a good time though, despite the rain! You all should have seen my make-up by the end of the night, not pretty!
The venue was really organized, there was no drama with getting to the toilets, bars, eating stands, etc. like there was with the Localize It Concert. And there were gynormous Guru dogs all over the parking lot, so you had to feel safe. Only thing, as usual, was the lack of preparation for rain. The highlight of my night was the awesomely cool Carib glasses we got when we bought beer!
P.S. Sincerest apologies to anyone whom I may have bopped on the head with my B-Mobile Styrofoam wavy thingy! It may have been intentional.. I'll never tell! =X