Hey G's,
Here's a quick tip on how to check if a polish is going to go on sheer or opaque without swatching. So when the Pennywise girl refuses to let you at least hold the polish in your hands before you purchase it (as if as soon as you get it in your possession your gonna make a run for the door), you can ask her to open it up for you to take a gander. Look at the wand and if you don't see any of the white wand peeking through, you know your polish is opaque. See photos below for reference.
Both colors look like beautiful metallic, deep shades in the bottle.
Click the names to see swatches.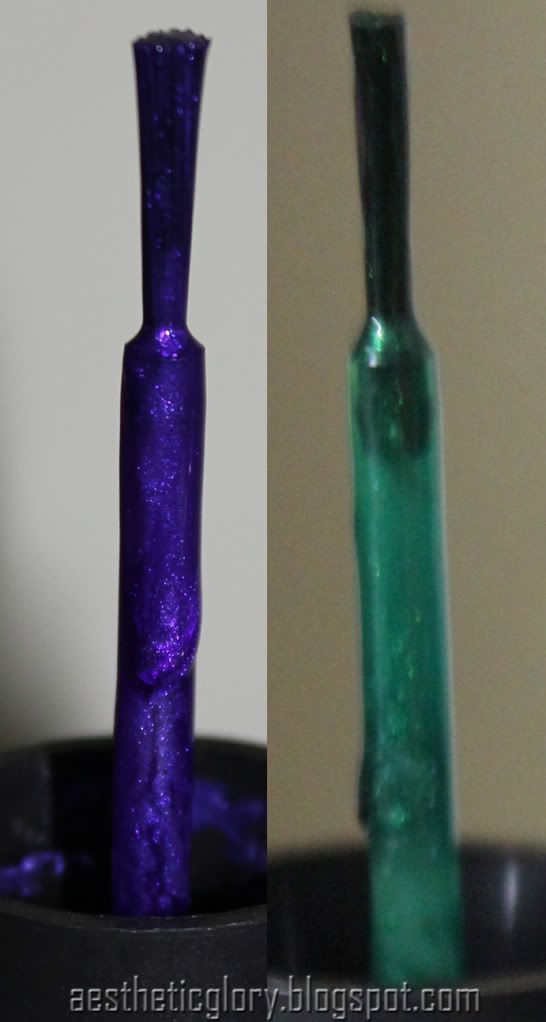 But if you take a look at the wand, you can see that the purple completely covers the wand. You can't see any white coming through and if you look at where the brush meets the wand, you don't see the black of the bristles either. Not the case with the green. The picture doesn't really translate the sheerness of the polish too well, but you get a better notion of it when you look at that area I was just referring to. Where the bristles meet the wand, you clearly see the black of the bristles, which wouldn't be the case if the polish was opaque!
A bit of common sense, but I do hope this helps!
♥,