Howdy my Glorious Gals & Guys!!
This semester, which is now over (THANK GOD), I took a Visual Arts course at University of the West Indies. And I think my lecturers had shares in Arts & More or something, because they kept finding new and creative ways to make me spend money in that damn store. And the lady there NEVER wanted to give me a discount. Like hello, I'm a student and a starving artist, give a sister a break nuh?? I sure I pay she rent by now, the amount of money I invested in that place. Anyway! I found myself being a bit more money conscious, so not only was I not buying make-up, but I wasn't buying any clothes either. Come to think of it, even when I was spending on make-up I
still
wasn't buying clothes! I'm a firm believer in retail therapy, so with the stress of exams coming on and my self inflicted limitation on funds, I'm dying!!!
I started looking for ways to revamp my closet (which turned into a way to procrastinate from studying for said exams). Now, I don't throw away anything I buy. When it comes to my wardrobe, I'm a hoarder. I wear things down.. to the ground! So anyway, I decided to revamp a pair shoes I've had for awhile, that I haven't worn recently. At least I can assimilate the feeling of newness, even if I can't afford it!
What You Need: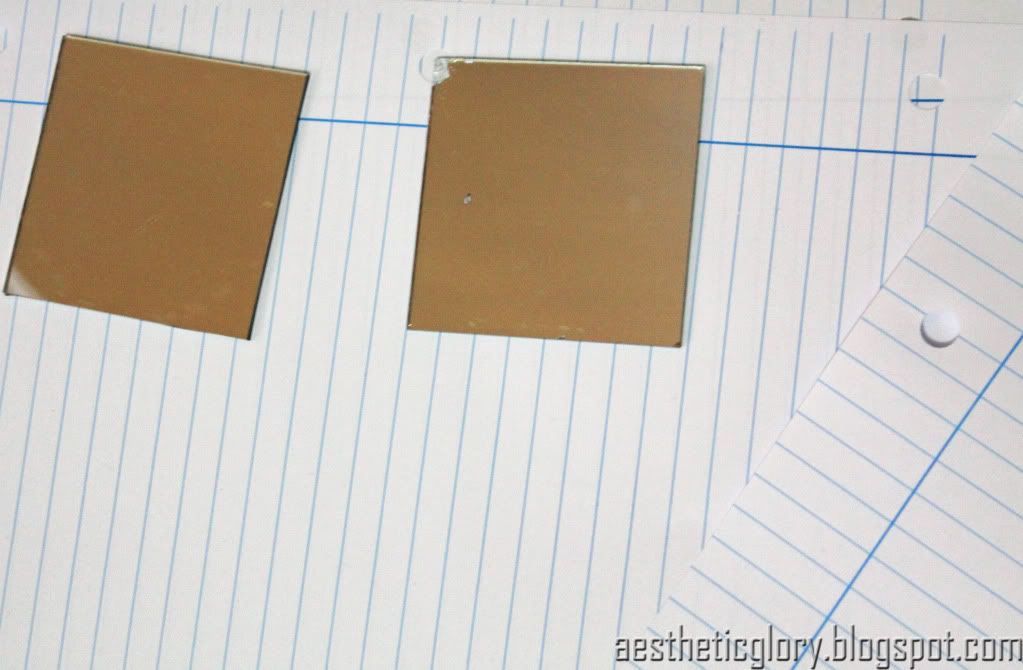 1 or 2 mirrors (depending on the size) - one of my mirror compacts fell apart, so this idea was born from trying to find a use of the mirrors. I have another mirror that I keep in my purse, so making another mirror compact was useless to me.
Loose leaf (aka folder pages)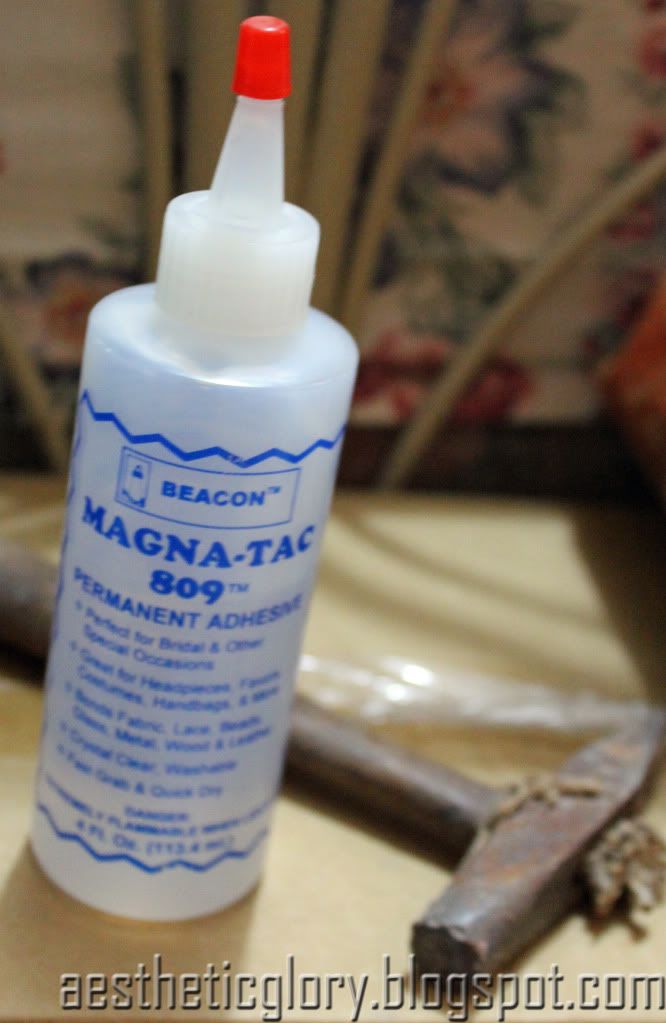 Magna-Tac (which is a permanent adhesive) - I had some of this laying around. I bought it at Daisy's in Chaguanas. You can find it at any fabric or arts/crafts store.
A hammer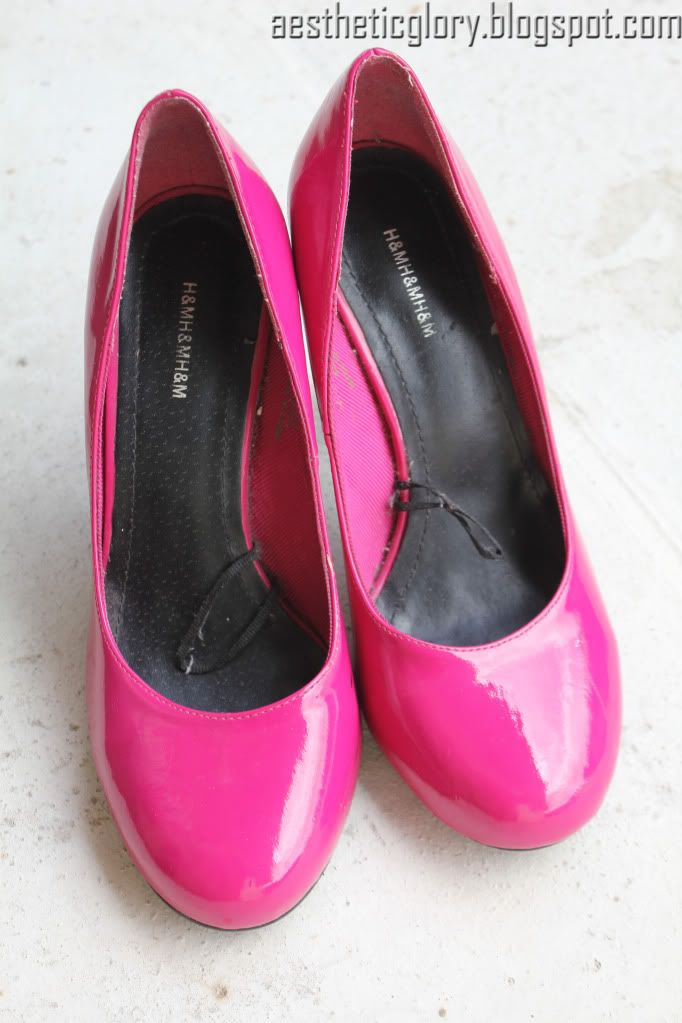 a pair of pumps that need some extra lovin
What You Need To Do:
-First, clean your shoes (and the mirror)! I used Window cleaner without first reading if it was safe to do so, but I figured it would be okay, since my shoes are patent leather. So clean your shoes accordingly!
-Place a sheet of loose leaf on your work surface. You can place a couple around as well, because the mirror can go flying. You can use newspaper too.. anything to make clean up easy and splinter free. Then place another sheet of loose leaf or news paper on top. So it's like a sandwich; paper, mirror, paper (ha! rock, paper, scissors)
-Then take your hammer and break the mirror. Yes I know, people think it's bad luck to break a mirror, but I'm not a superstitious person. BELIEF KILL, BELIEF CURE!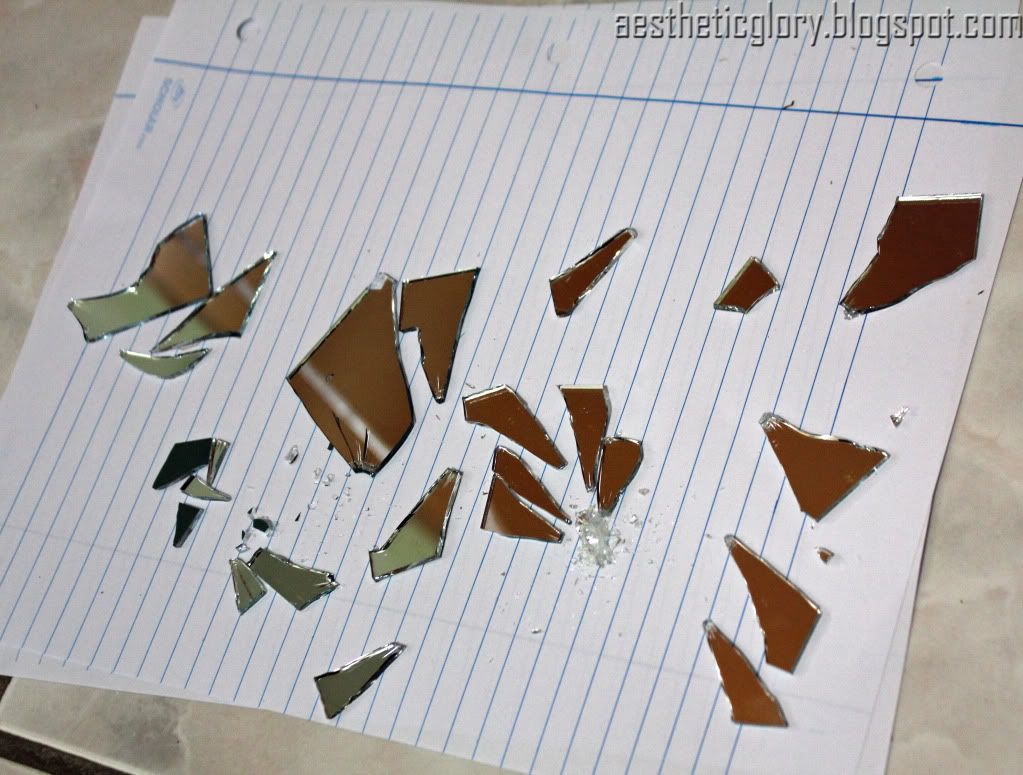 -Now take the pieces and make a design. If you have trouble designing on the shoe you can make a life size outline by tracing around the shoe on a sheet of loose leaf and design on that:
-Then glue the pieces on the shoe. Magna-Tac is extremely thick, however it can be diluted with acetone. I didn't have pure acetone, so I tried nail polish remover and... it really didn't work out. Dunno if I got impatient and didn't wait long enough, but I ended up using the Magna-Tac straight out the bottle. I used a tooth pick to scoop it out and coat the back of the mirror.
The End Result:
Don't expect both shoes to come out looking the same, but that's what I like about it. And even if you decide to recreate this, your shoes won't look like my shoes! Your mirror might not even break the same way mine did. So you'll have an original work of mirror art and a pair of shoes that no one can go out and buy!
When I walk the mirror catches the light and reflects all kinds of niceness. And hey, if I ever forget my mirror at home, I can take my shoes off in the club, like I always end up doing come the end of the night (yea, yea, unladylike and whatever, but my feet be killing me okay!) and do a quick make-up check.. or I can just go to the rest room like a normal person, but normal is boring!
Happy Revamping!
Dare to be different, dare to be you!
♥,