Hey Glories!
Cooking myself thin has been going well. I've lost 6 lbs and I've got 27lbs more to go before Carnival 2012 (as you can see in the little countdown I have going in the right hand column). The even better news is I should be able to meet my goal by December 4th 2012 (just in time for Christmas too!), according to
Loseit.com
. I signed up for an account yesterday, not really conducive to the downsizing of online sites that I'm signed up for, but it's pretty useful, so I think I'll keep it.
Right now, I'm signed up for
Blogspot
,
Flickr
,
Facebook
,
Youtube
, Forumspring,
Beautylish
,
Twitter
, and
Tumblr
(feel free to click the links and follow any of those btw)!! Way too much to keep up with, hence the reason I'm trying to downsize. My 3 passions are: makeup, writing, and photography, so that leaves me with Youtube, Blogspot, and Flickr. Facebook connects all 3 passions, because that's where I post updates. My Twitter is connected to my Facebook and My Loseit is connected to both. I guess that knocks out Tumblr, Forumspring.. and..
ah feeling hard to give up Beautylish
, because I adore the website! I guess I'll keep it for now and see what happens.
Anyway, back to Loseit.com. It's just like Weight Watchers (which I've been a part of before), but instead of counting points, you count calories. The site allots you a specific amount of calorie intake for the day, depending on weight, height, BMI, and even calculates a date for when you'll reach your goal! My calorie intake is 1317, which is 67 calories more than I allow myself with Cooking Yourself Thin. It's like a food journal, where you enter what you eat daily and try your bestest not to cross over into red (that means you've went over your calorie intake for the day). You
could
use it throughout the day to keep track of your calories, but I prefer to use it in the morning to plan out my day (exercises and all!), which is mighty convenient.
It has a database of foods to which you can also add your own if it's not already there. You can also calculate in any exercises that you've done for the day or plan to do for the day, which makes more calories available to you. Every time you log in, you can record your weight loss or gain, so it's ideal for keeping track of your diet, exercise, and progress. I'm telling you, it's just like Weight Watchers, but for free! *[bbm dance icon] for freeness* You even have the option to add and make friends, but that's not something I'm really interested in.
So, this entry is going to focus on
some
of the foods I've been cooking utilizing the Cooking Yourself Thin Faster cookbook (that means, it's the meals that I remembered to photograph). I'm gearing it towards folks who are interested in purchasing the book and cooking the meals, as I'll be discussing substitutions I made, issues I ran into, and of course, TASTE! Since it's just a fraction of what I've been eating, you can check out my Loseit account to peep my daily meals, if your interested.
Cooking Yourself Thin Faster... Trini Style!
Violet Morning Smoothie: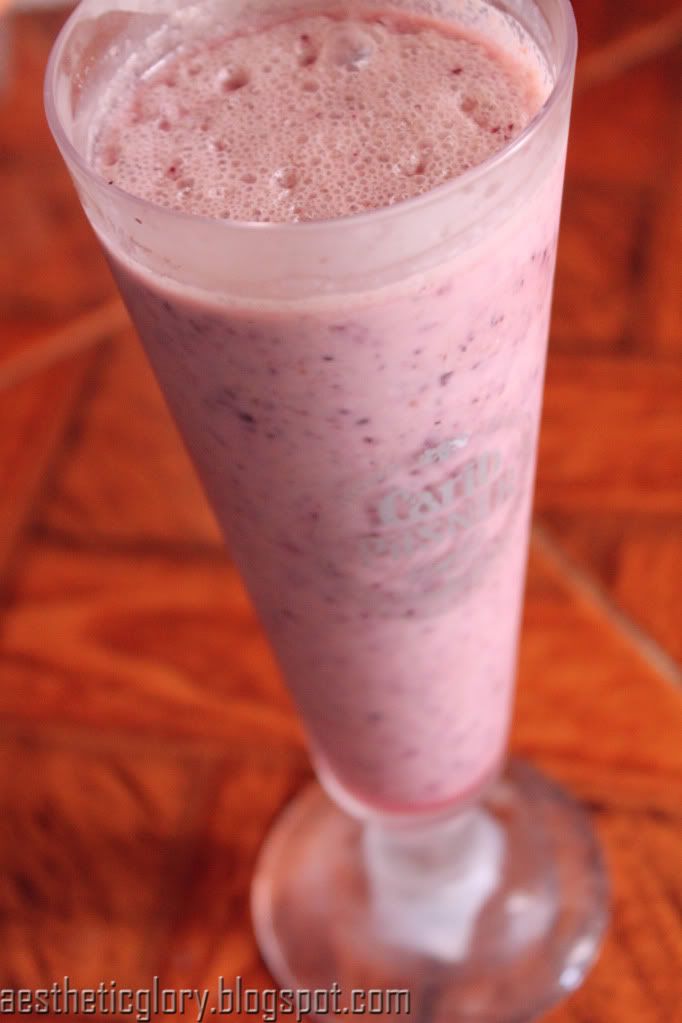 Easy and quick to make! I tend to have this in the morning. It's made with blueberries, pomegranate juice, and yogurt. It's high in antioxidants, yummy, and gets me to eat my fruit! The colour of it is a gorgeous violet, which the picture doesn't do it any justice to.
Almondy Joy: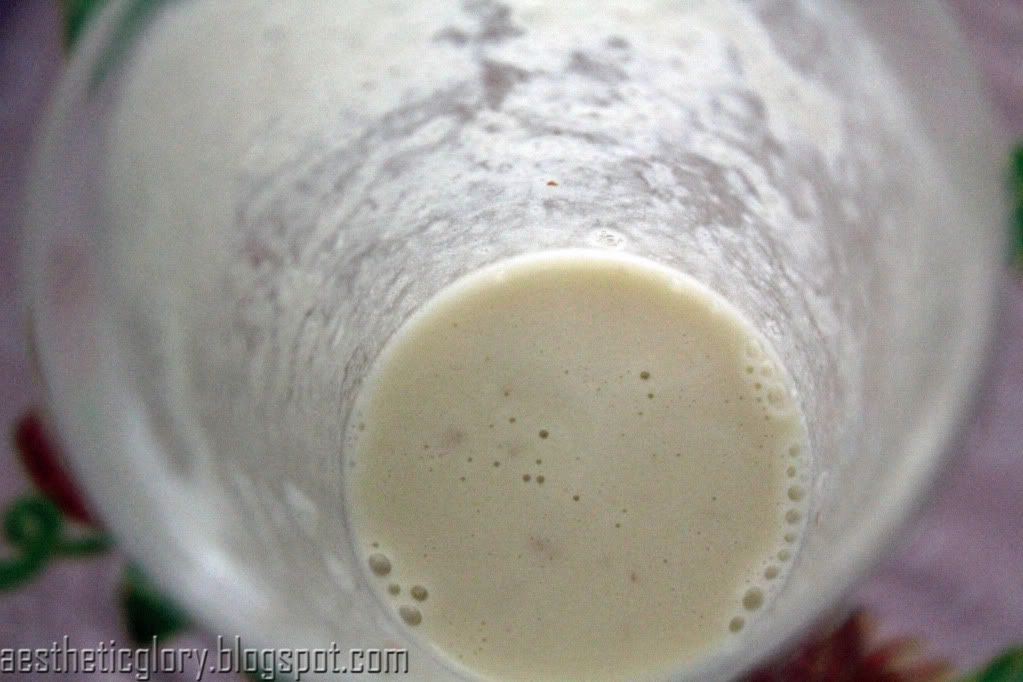 Not the best picture, I know, sorry! This is another quick and easy, delish smoothie! It made with frozen naners (bananas), almonds, and yogurt. It's a great way to utilize those naners that are over-ripening to the point where you don't want to eat it, but you don't want to waste it either, which always ends to happen when I buy bananas. Because who want to eat a whole bunch of bananas all d time, all d time. If I don't nyam it in time, just before they go bad I cut em up, freeze em and make this smoothie whenever I'm in the mood for it.
Chicken Cordon Bleu: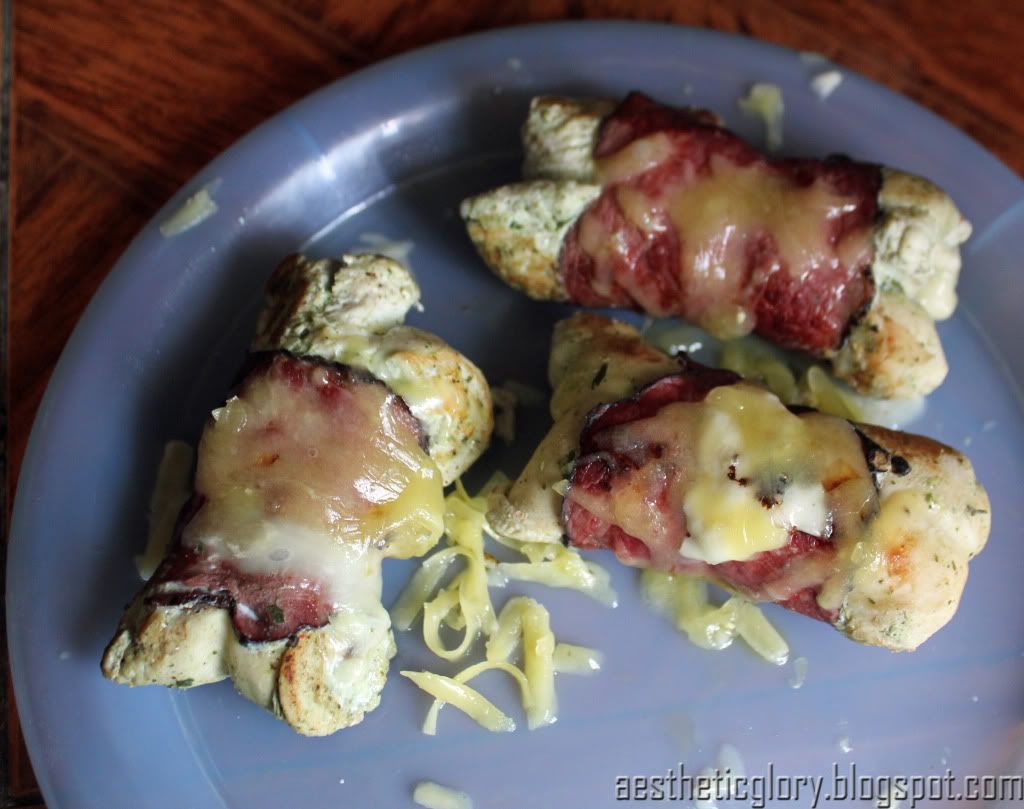 This thing is SO freakin delicious. The most yummiest thing I've made thus far! The great thing about it is you can use different cheeses as stuffing (you can even add olives), so it won't get boring. Wrapping it might look difficult, but it's a breeze.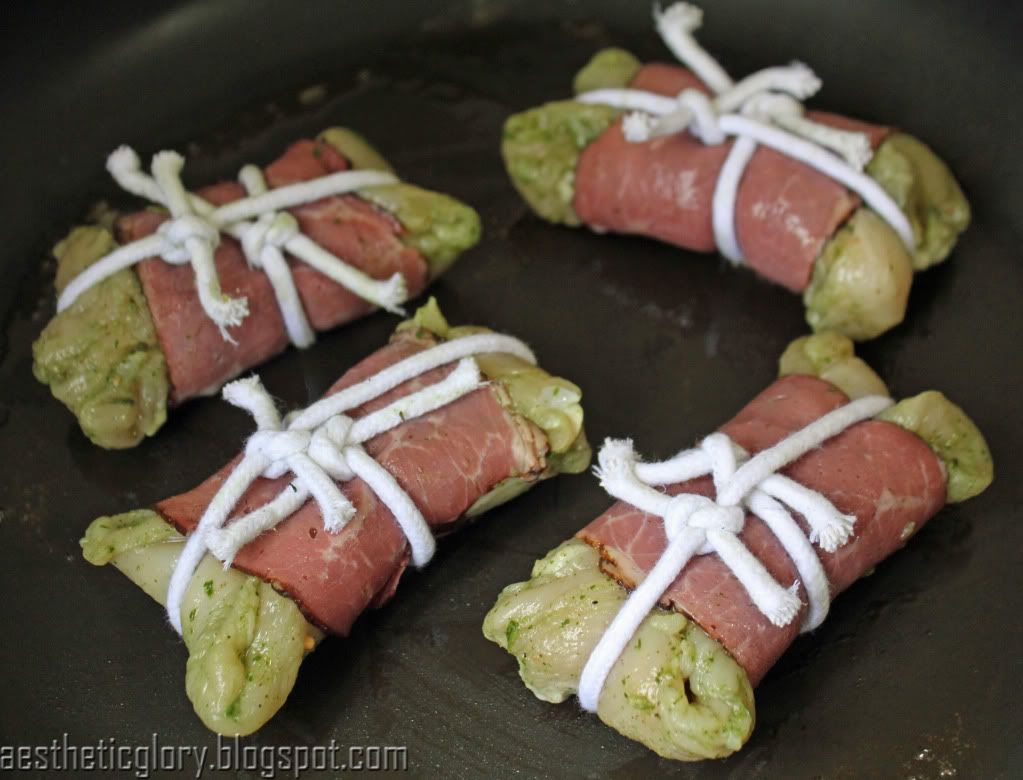 I didn't have twine, but I had a long piece of this stuff that I used instead. Looks like shoelaces, dunnit? It didn't hamper the cooking process much, and shoot! a girl gotta improvise! The recipe called for a piece of boiled ham, which I didn't have either, so furthur improvisation called for me to use frozen deli slices that I had in the freezer. This one in particular is beef pastrami. The fun part about this meal is you get to flatten the chicken breasts with a meat mallet or bailna (rolling pin). Talk about taking out your frustrations. Don't beat too hard though, else you'll tear the meat. The recipe didn't instruct me to tuck in the sides, but common sense says that the cheese stuffing inside would melt if I didn't. After you brown them on each side in the frying pan, you have to add water to the pot, so it can simmer and finish cooking. Watch those babies! The cheese starts to bubble out the sides. If you see cheese I loss! Ah get so vex, ah added some extra cheese on the top to make up for it!
The main herb (or seasoning) the recipe calls for is rosemary. Eek GAD! I used rosemary in another meal I made and I hated it. It has this strong, bitter, licorice taste. Dale liked it, but I can live without it. I seasoned my chicken as normal with my blend seasoning (shadow beni & garlic) and I added a few sprigs of rosemary. All yuh know American's doh season their meat! I limed those chicken boobies down prior to seasoning them as well! Rosemary isn't something that's easy to find in Trinidad and for good reason too, it's yuck! But for Corpus Christi, Dale planted some herbs for me; rosemary being one of them.
Buffalo Wings & Stuffed Mushrooms: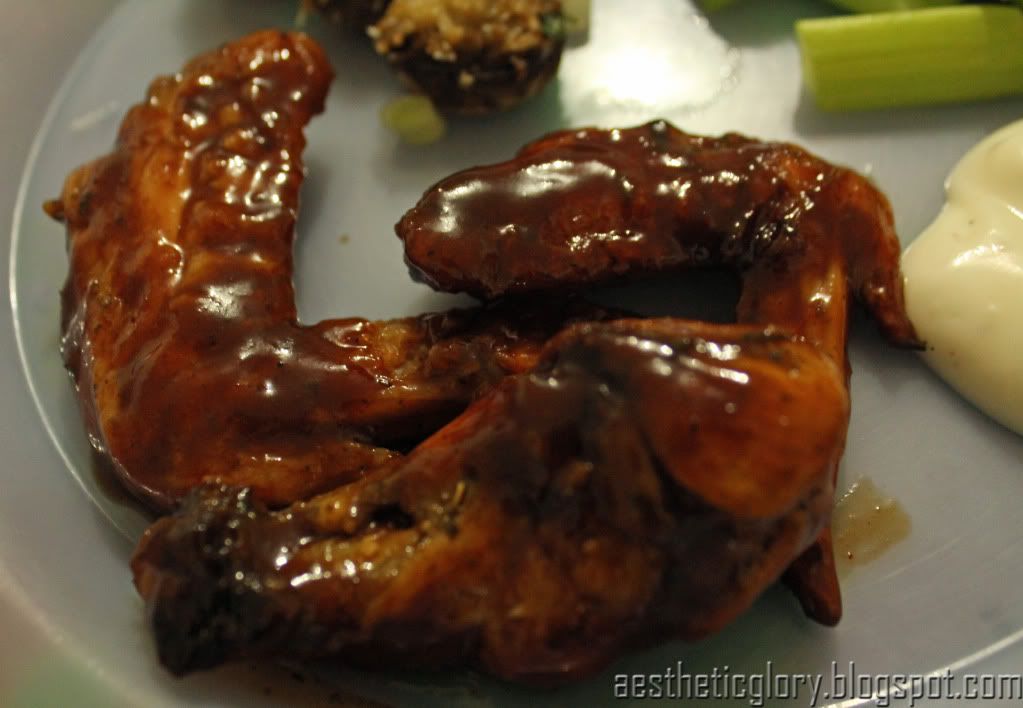 These are the most DELICIOUS low-fat buffalo wings you'll ever eat in your life! Mind you, this picture is when I didn't have the buffalo sauce and ended up making my own (so it was more like BBQ wings), but I've made it several times after with the proper sauce and it's finger lickin good! The recipe calls for Frank's Buffalo Sauce, but good luck finding that in Trinidad. My mom had brought down a ready made buffalo sauce from NY once and I noted the ingredients. Now, I'm talking about the kind of fluorescent orangey-red, tangy, not so spicy buffalo sauce (kinda like the one you get in Ruby Tues or Fridays). I like my wings sauced down in this vingary goodness! The key ingredients to buffalo sauce, at least the type I like, is cayenne pepper and vinegar. If you go by colour alone, your likely to buy something that tastes like traditional Trinidadian pepper sauce and that isn't ideal for coating your wings in (unless you boss like dat and can take that kinda hotness, but even my hot mouth cyar handle dat) and then you'd probably have pepper wings, not buffalo wings. The ready made buffalo sauce would be a no-no since that already comes with butter in it, but I found the PERFECT sauce in Xtra Foods in Grand Bazaar. It's called Louisiana Hot Sauce (mmhmm, that foreign stuff) and you don't even need a lot, so a whole bottle can make me about 3-4 batches of wings.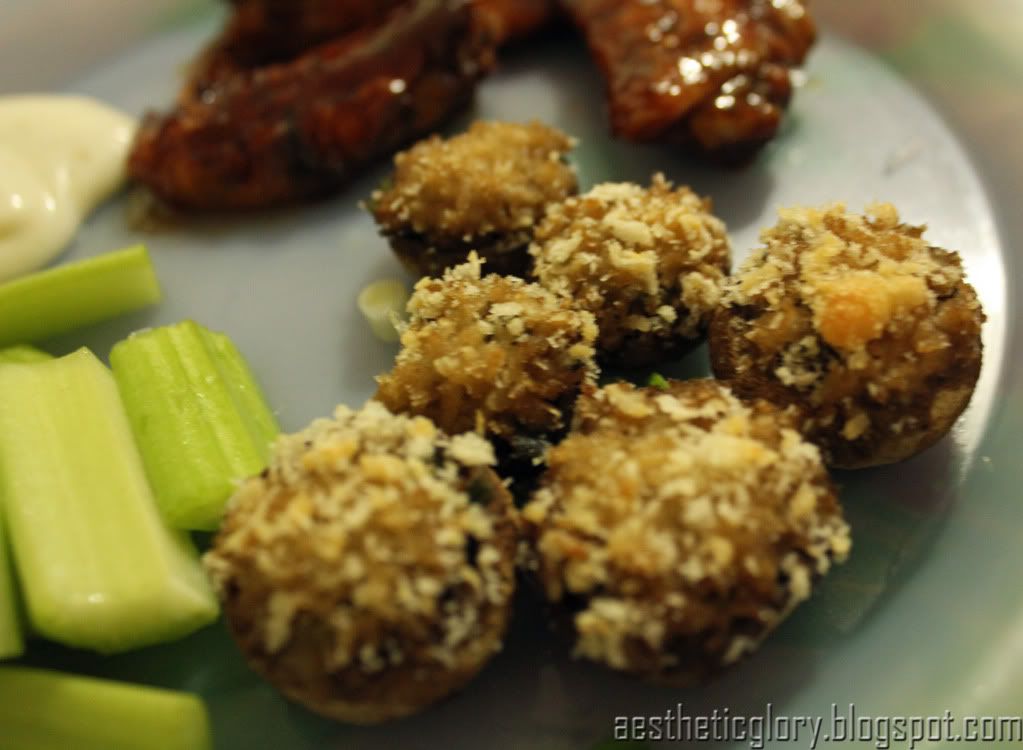 These stuffed mushrooms are made with panko bread crumbs (which you can also find as Xtra Foods), Parmesan cheese (which I noticed is a big staple in a lot of these recipes), and parsley. You just cut up the stems, mix in the rest of ingredients and you literally have to hold the mushroom in your hand and stuff them. If you just sprinkly some from up top, it won't pack in, and you'll have a lotta extra stuffing to shrooms.
So I basically had cutters (appetizers) for dinner one night, but it was darn good! The buffalo recipe suggests celery sticks to go with and advises that you mix blue cheese with yogurt to get a lighter sauce. Genius idea! I didn't have blue cheese, but I had some horseradish sandwich spread thing that I used instead. By itself, it would of course be thick and creamy, but mixed with the yogurt, it was light and still tasty! I'm sure you can do the same with garlic sauce if you prefer (or have) that instead.
Pasta with Sausage and Cherry Tomatoes: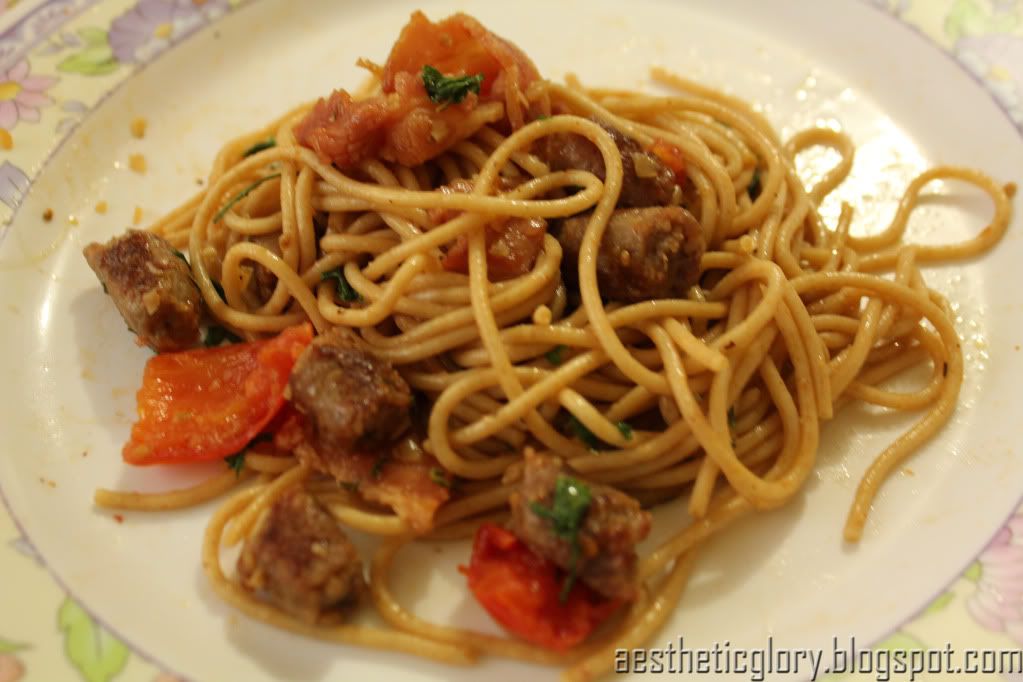 Ehh, these meal was ok. I'll admit, I had to put some ketchup and pepper sauce to make it more appetizing to me, but that's just because I like saucy things. Dale on the other hand, didn't mind the fact that it was dry. It calls for an array of simple, easy to find ingredients that you might even have in your kitchen right now: sausage, parsley, cherry tomatoes, and whole wheat pasta. The recipe called for pork sausages; I used whatever breakfast sausage I had in the freezer (which had maple syrup in it, so maybe that accounted for the mediocre taste). I didn't have cherry tomatoes, so I just cut up normal tomatoes instead. When it comes to the herbs, use whatever herbs you like. If you know you hate parsley, try something else or just omit it altogether (though you'll be omitting flavour as well). I must admit though, the pasta was light and it satiated my appetite without leaving me feeling overstuffed.
Chicken Meatballs & Creamed Spinach: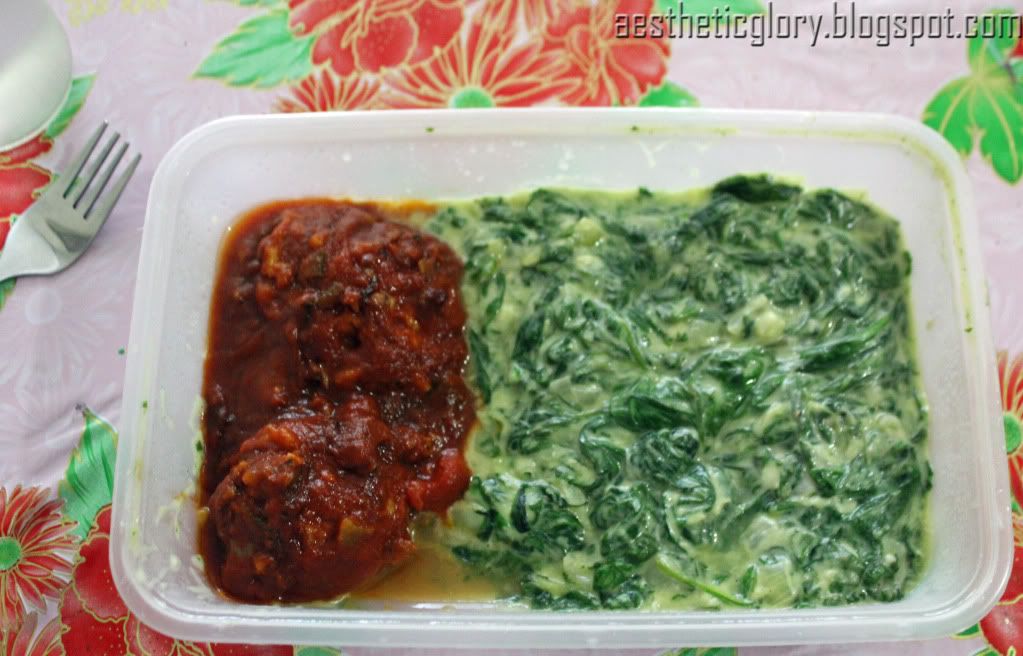 This might look a lil funny, but I think the colours are charming! Red and green! These were two separate recipes that I paired together. You could, of course, pair the meatballs with whole wheat pasta instead, but this combo was pretty good. It was similar to the veggie lasagna recipe I made, just without the lasagna layers. The creamed spinach is okay.. it likes flavor for me. Dale really likes it though. I ended up using a extra cup of milk to make the sauce, because that one cup just disappeared into my roux and left me with lumpy flour (kinda look like parsad haha)! I used more spinach than the recipe called for, so I guess everything sorta evened out. *shrugs*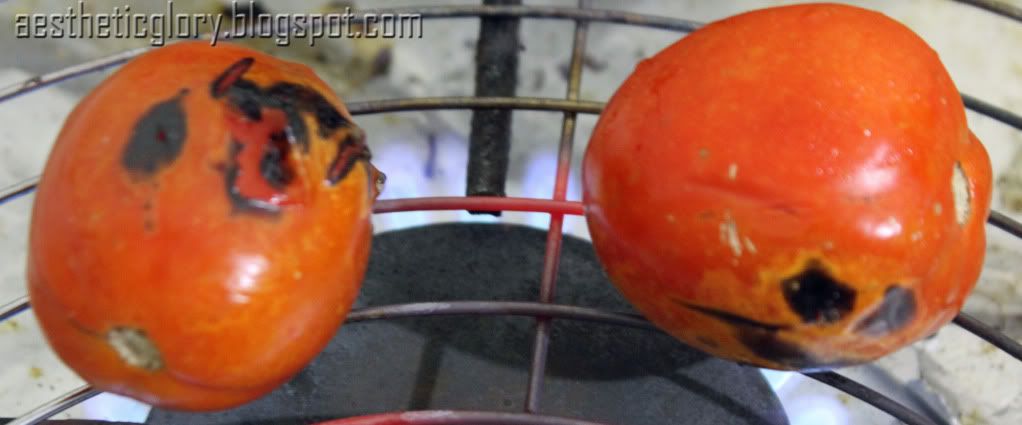 The recipe called for canned tomatoes (preferably fire roasted). All I has was tomato sauce, so I added some flavour to it (ketchup, garlic, herbs, and pimento) and fired roasted my own tomatoes! Tomatoes choka, anyone?
Quick Jambalaya:
This meal was a complete FAIL. And ironically it was the very first recipe I tried out! If I had let this recipe set the bar for the rest of the recipes, I would have been in shambles! That would have been a bad pre-mature decision, for sure. This jambalaya is made with turkey meat and I just had happened to have roasted a turkey a couple of days before, so I thought what a perfect way to get rid of the rest of the meat. BLEH! I already don't like rice, but I tried to give this a chance, but even Dale couldn't eat the remainders (and he eats anything). It's sour and tasteless. NEVER making this again!
Raspberry Lemon Tea Cake:
This is the 2nd dessert I tried making. Prior to this, I made the Fudgey Brownies, which were yummy. Those were easy to make, so I'll make it again and snap photos. Now, straight off the bat, my measurments are a bit off. Your suppose to measure dry and wet ingredients with different measuring tools, but I only have a measuring cup, so that's what I use. It came out edible though. Not sure if the center was entirely cooked, but as you can see it already started browning on the edges, so I didn't want to keep it in longer. And somethings up with my oven, so it could have been that too.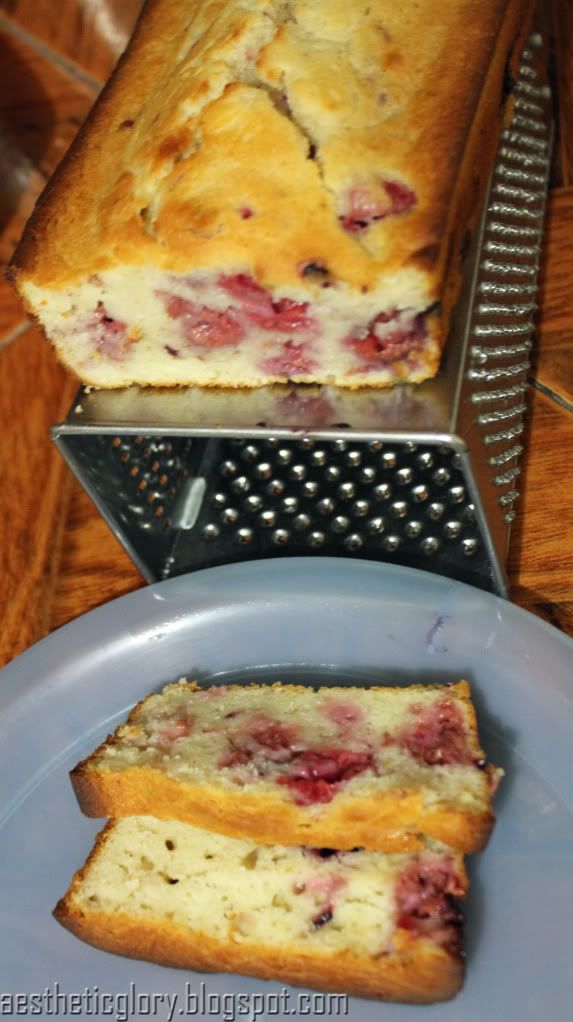 Your suppose to put it on a cooling rack, but I couldn't find mine, so I put it on the grater. What?! It does the same thing! The holes allowed the air to pass through just the same! This recipe was an AWESOME way to use the raspberries that I bought in Xtra Foods (as you can tell by the pattern, that's where I do my groceries), that were already spoiling. I saw that they were leaking juice profusely when I bought them, but I was so missing my blackberries and raspberries that I had to buy them. But they were already on the verge of going mushy. The berries weren't that sweet, so the cake was a bit tangy as well. And I used lime zest rather than lemon, because that's what I had!
Ok that's all the meals for now folks!
Let me make a quick side note before I go. I think I mentioned this in my last entry, but just to reiterate, I don't really buy low-fat or fat-free products. So if the recipe calls for skim milk, I'm using whole milk. It's important to look at the ingredients and nutritional info on the back of your foods, so get in the habit! A lot of the fat-free/low-fat products make up for the lack of fat with other garbage like extra sugar or might even contain trans fat (which you want to stay far, far away from). There are such things as 'good fats' and your body needs fats to be healthy (
check out this article - it's short, so don't worry
). So that's something to consider when calorie counting. It's not just about the calories, because if your only consuming empty calories, your body is going to lack the nutrition it needs to be healthy.
If you have any questions about these recipes or any questions at all.. feel free to ask in the comments below.